Is it Fall yet? Good Lord, I wish it were. So far this year Austin has had 65 days over 100 degrees, and it's now unanimously predicted that we're going to beat the all-time record of 69 days, established way back in 1925. Delightful.
So I'm busily living in sweat-laden denial, and that includes getting into the mood for all these great autumn foods that are coming down the pipeline. Heck, it'll probably still be swelteringly hot on Thanksgiving Day anyway, so why not start enjoying them now? Anachronistic food is not a crime.
.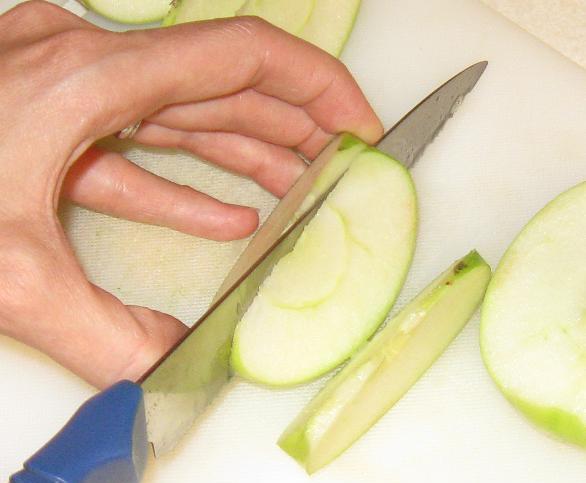 It should come as no surprise that this recipe contains apples, specifically the Granny Smith variety. I really like them with the peels on, but I understand if you have to take them off. Either way, cut three apples into wedges (minus the cores) and set them aside.
.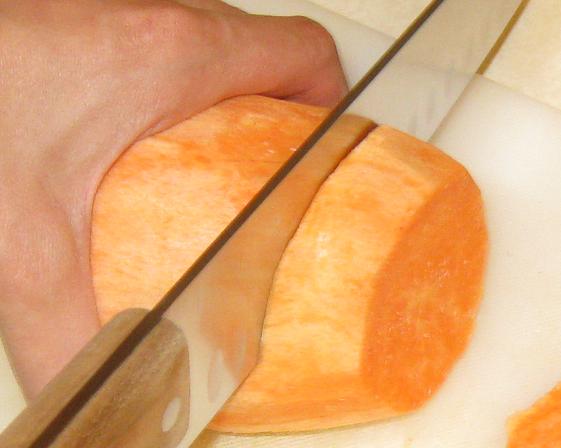 Peel two sweet potatoes, and cut them into rounds about 3/4 inch thick. Then cut each round into fourths, so you end up with a bunch of little pizza-slice shapes.
.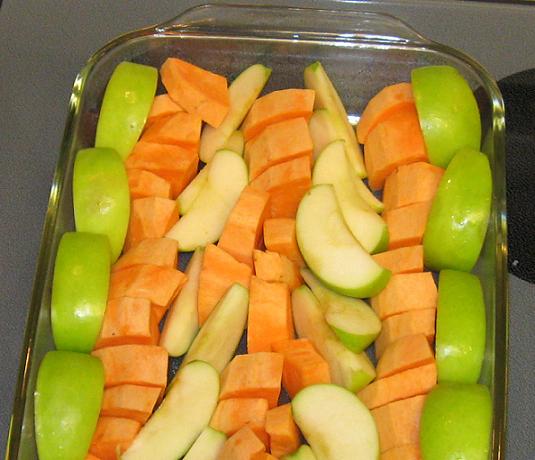 Does the shape honestly matter? No, but it makes arranging them easier if they're all the same. And while we're being honest, this alternating-line arrangement isn't really necessary either. But it sure does look pretty, doesn't it? Note that I did grease this pan with a little coconut oil before going all Martha Stewart on it.
.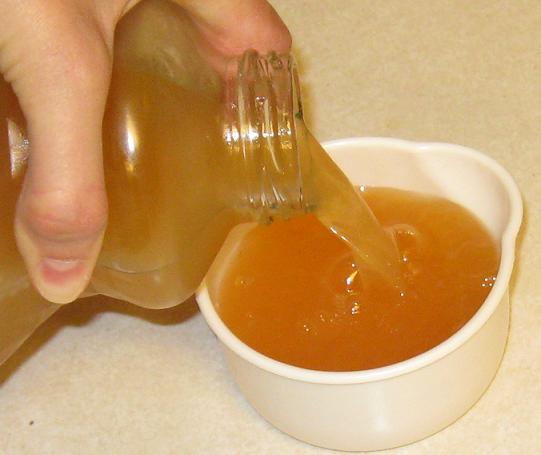 Next, take 1 cup of apple juice (the cloudy kind that comes in a glass jar is best, it means it's the least-processed) and gently pour it into the baking dish among the apple and sweet potato pieces.
.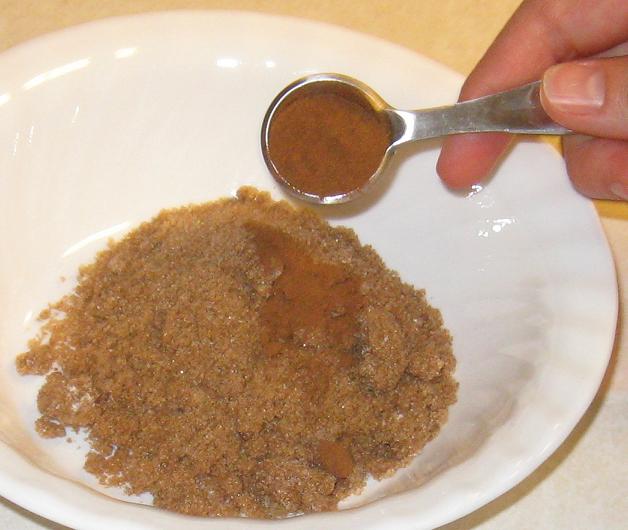 Now, measure out 1/3 cup of brown sugar, and mix in 1 teaspoon of cinnamon…
.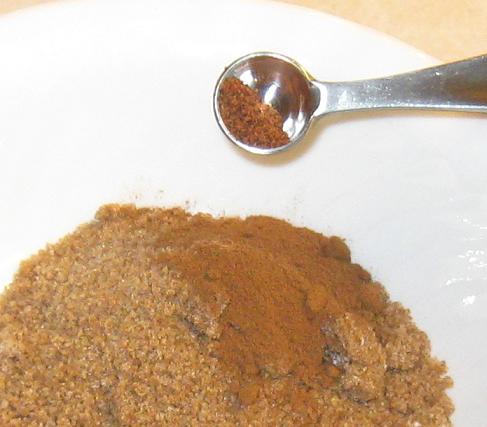 And 1/8 teaspoon of nutmeg. I just eyeballed half of a quarter teaspoon for this one, rather than go hunting for my tiny measuring spoons. Close enough for government work.
.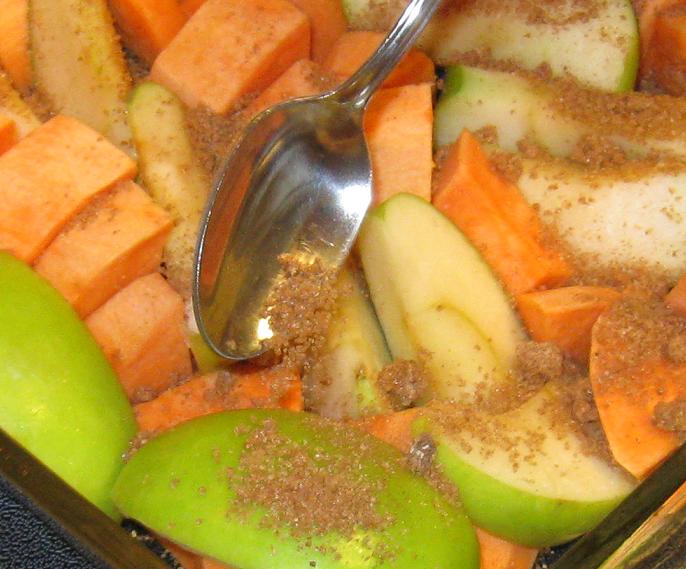 Blend the three together, then sprinkle your sugar mixture evenly over the baking dish. You can't sprinkle such tiny amounts of cinnamon and nutmeg over such a large dish, see, that's why we mixed them into the sugar first.
.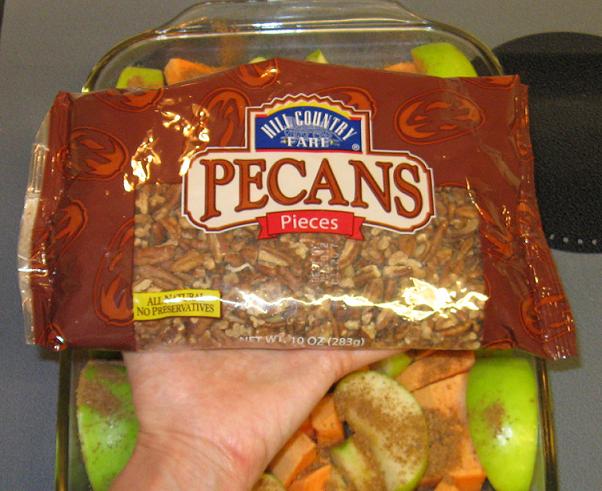 Now, layer about 1/2 cup of pecan pieces over the top. Have I mentioned before how hard it is to photograph plastic bags? I swear I must have taken a dozen shots before I got one where the flash wasn't reflecting awkwardly off the bag and making it unreadable. But because I love all of you, I persevered.
.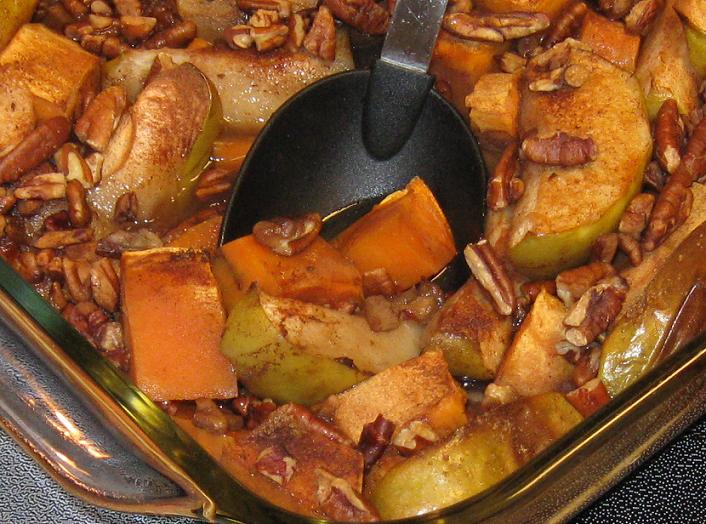 Bake uncovered in a 350 degree oven for 1 hour. Then crank up your A/C and pretend it's jacket weather out there.
.
Happy Eating!
.
Sweet Potato and Apple Bake
3 Granny Smith apples
2 sweet potatoes
1 cup apple juice
1/3 cup brown sugar
1 tsp cinnamon
1/8 tsp nutmeg
1/2 cup pecan pieces