I'm going to let y'all in on a little secret: I am a tad neurotic. Perhaps more than a tad; maybe a wee bit. A smidgen? Let's just say I have no doubts as to which side of the family my son's obsessive-compulsive tendencies came from. To give you an idea, here is a picture of my spice drawer.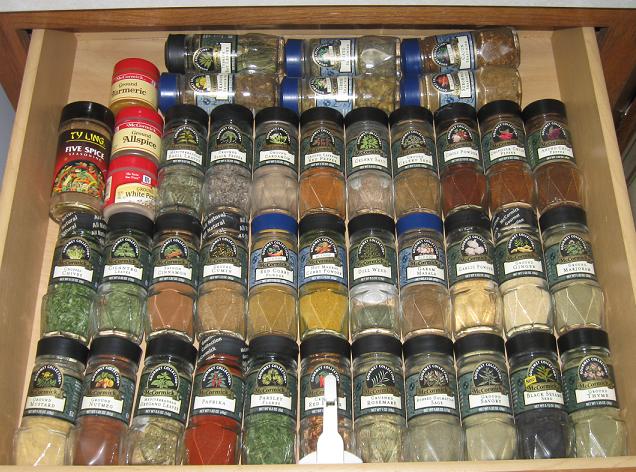 Look closely and you'll see they're (mostly) in alphabetical order. And does it bug me that those four spices on the left aren't the same brand as all the others? You bet it does. But McCormick just doesn't make those spices in this line of bottles, so I'm out of luck.
Anyway, the point I'm getting to is, while sometimes this level of organization can be indicative of a mental condition, sometimes it can also be really helpful when your dietary lifestyle requires so much more cooking and meal planning than most people's.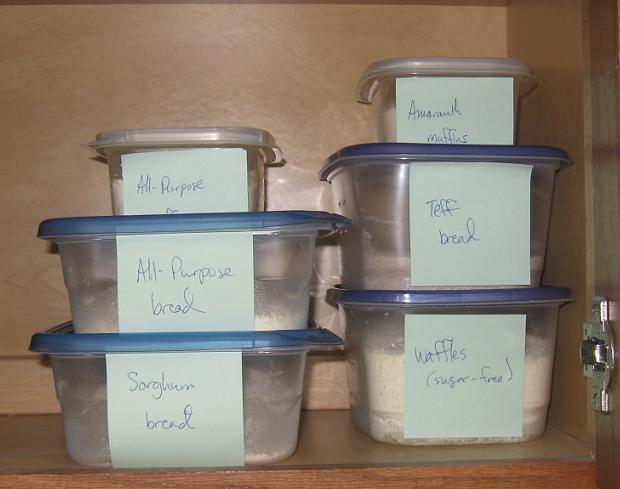 Witness, for example, my collection of baking mixes. Once I've already got all the ingredients out for making waffles, or bread, or whathaveyou, it takes virtually no extra time at all to scoop out a second, third, or even fourth dose of everything into little plastic containers on the side. Then a week later, when I'm flustered at the idea that it's already time to make muffins again, I remember with joy that half the work is already done! Even if you're not baking as often as I am, the dry ingredients will keep in the pantry just as well mixed together as they do separately, so why not?
This is actually a pretty diverse collection for me right now; usually you'd see more duplicates of the staples in my cabinet. The teff bread is a new experiment (just using my standard bread recipe, but substituting teff flour,) so we'll see how that one turns out some afternoon when I'm feeling adventurous.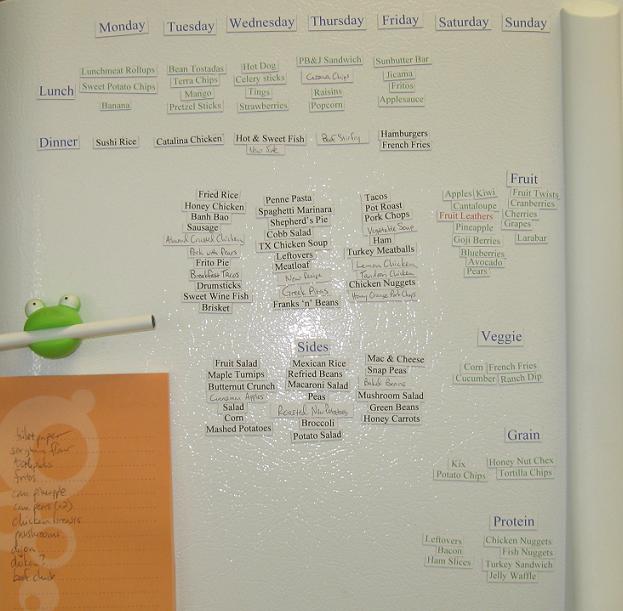 But here's where the real neurosis kicks in. This, ladies and gentlemen, is the left half of my refrigerator. (Don't you just love my frog pen-holder? So do I.) This is like the Gutenburg Bible of meal planning. I have a little magnet for every meal and side our family routinely eats, and I just pull whatever I want out of the main collection in the middle, and lay it out in the weekly schedule above.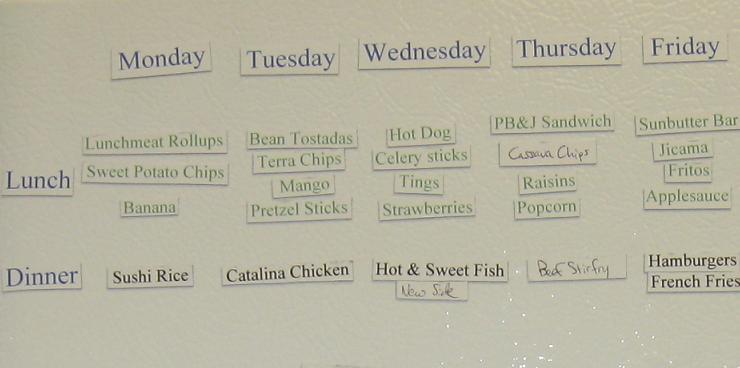 This is helpful from a general meal-planning standpoint of course, in the sense that I have to know what I'm making when I go buy groceries. But the real reason this system works for me is because I have all my options laid out in front of me at all times. I have a big problem with inspiration in the kitchen — like the proverbial woman who stands in her closet saying "I have nothing to wear," I can stand in a kitchen chock full of groceries and have no idea what to make with them. I've had great recipes fall off my radar for months at a time, because I just forgot about them. Now, instead of having to flip through my entire recipe box every week, I can take everything in with a quick glance. What's more, when I move stuff down out of the week again, I put it at the bottom of the stack, so the items at the top are always the ones I haven't made in awhile. It's important to rotate your product!
But where, you may ask, did I get a magnetic poetry kit of my own recipe box? Why, I made it myself! Avery makes these great magnetic paper sheets, ready to load right into the printer. It's $10 for 5 pages, which seems like a lot per page, but I used just a little over half of one page to print everything I needed for this project. Rather than try to run weird sizes of paper through my printer, I cut the rest of the remaining page into blank strips, and now when a new recipe comes along, I just handwrite a magnet for it. I also have a useful little marker for "New Recipe" and "New Side" for the schedule, so if the recipe's a dud I haven't wasted any magnetic paper on it.
…
Since school lunches are kind of a different beast altogether, I color-coded all those standard items in green and keep them organized down the right hand side by food group, so it's easier to be sure the kids have a balanced lunchbox.
In a few more years I'm hoping I can get them to start helping to make their own lunches, and when that time comes I'm thinking I'll reprint all the lunch choices in a bigger font and tell the kids they can pick whatever they want as long as they get one item from each group.
The magnet paper is great for other things too — memorable business cards, little school fundraiser items, picture puzzles… I don't know about you, but there's no limit to the number of things I can stick to my fridge.
Happy Organizing!