It's time for a rare non-food post here on TheGFCFLady! If you've ever shopped around for a weighted blanket for your autistic child, you know how shockingly overpriced they can be. Part of that is because it's being marketed as a "therapy" item instead of a bunch of beanbags sewn together, and part of it is basic supply-and-demand principles: rice flour could be cheap too, if only they could sell enough to mass produce it. (And that day is getting closer… but I digress.) The point is, you can make your own weighted blanket for less than half the cost.
But what if you don't own a sewing machine? Or like me, you do technically own one, but you're not exactly ready to go on next season's Project Runway with it?
.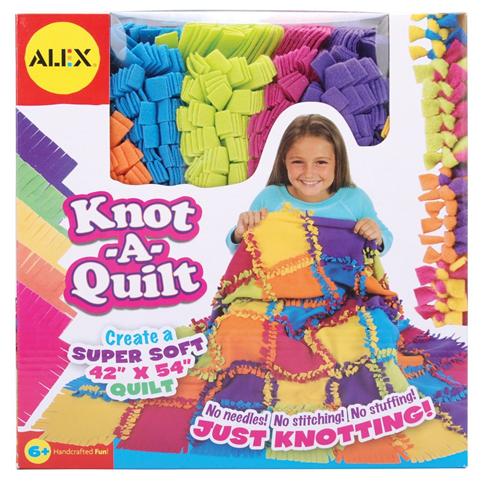 The solution is one of these. Except instead of making a giant single-layer quilt, we're going to double up the squares so that each one makes a pocket. The end result will be six squares by four squares, or about 4 feet by 2 1/2 feet. It's not huge, but it's plenty big enough for a child's body.
.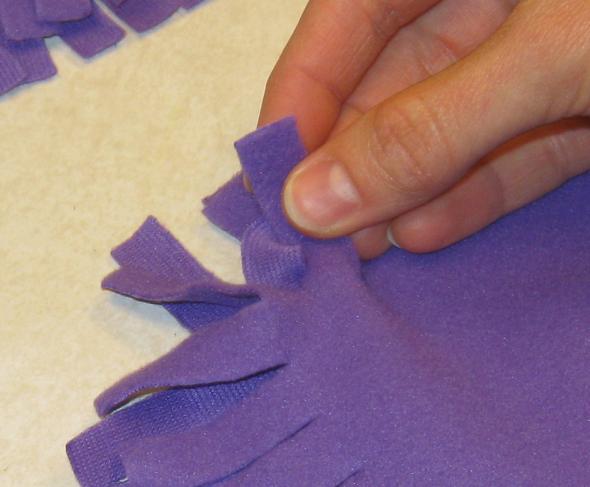 The kit has 8 squares of each color, so match them into pairs for four pockets of each color. Granted, the rainbow color scheme is a little on the girly side, but you could always go the extra mile and buy a few yards of whatever fleece color you wanted, and cut out all the little tabs yourself. (Though at some point, it becomes easier to just learn how to sew instead…) Make sure to put the smooth sides facing each other, and the fuzzy sides facing out. Then knot together every other tab pair, on three sides only.
.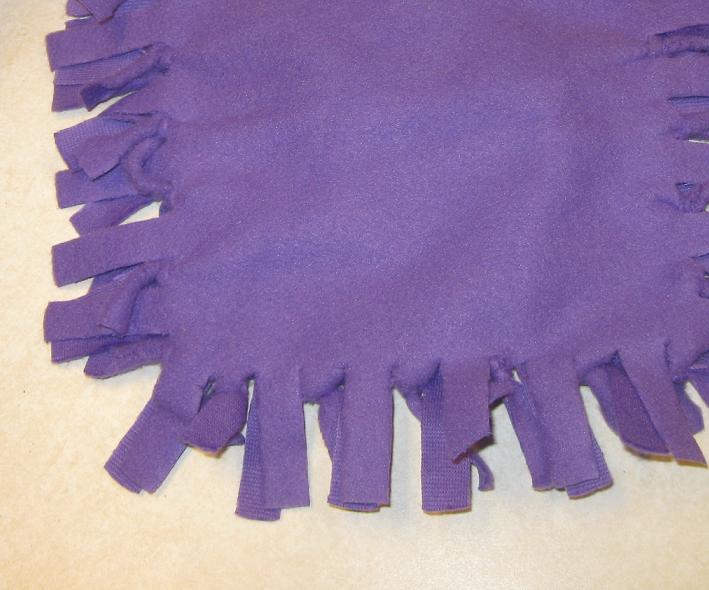 The remaining tabs will be for tying each pocket to the ones next to it. Doing all your pockets on three sides will definitely take some time, but once I got into the groove I was able to do one pocket in about 5 minutes — and hey, it is designed to be a kids' craft project, after all, so maybe your young one will even be able to help you.
.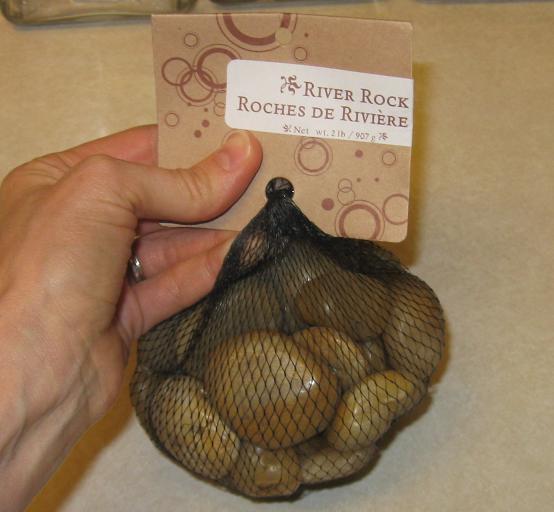 Eventually, it will be time to load them with weight and close each one up. The drawback to the traditional dried beans or rice is that they may grow mold over time. You can also buy plastic pellets online, which is what all commercial "bean bags" are actually filled with these days, but some people have voiced concerns about the plastic off-gassing over time. I don't have the energy to fully research which pellets might be safest, so instead, I decided to use these smooth river rocks from Michael's craft store. They sell smaller ones, too, but I chose these large rocks on purpose. The GFCFGirl has a lot of auditory sensitivities, and the white noise of grinding gravel is specifically irritating to her. In contrast, these larger stones make a very satisfying low-pitched clack noise.
.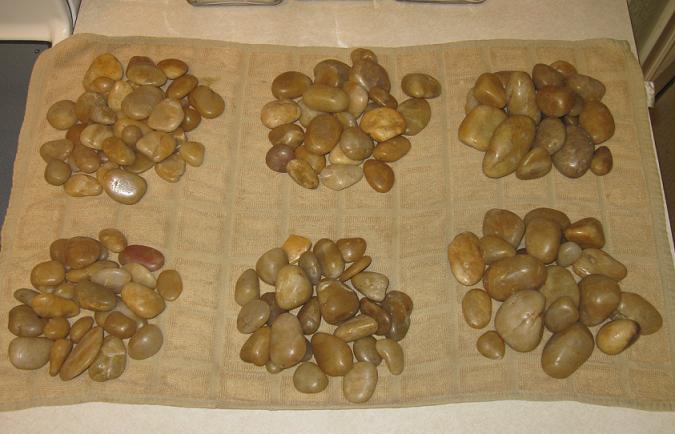 But regardless of size, 2 pound bags of stones were only $2.49 each. The amount of weight you use will depend on your child's size and preference, but I went with an even 10 pounds. There are six colors in the quilt kit, so first divide all your rocks into six equal piles.
.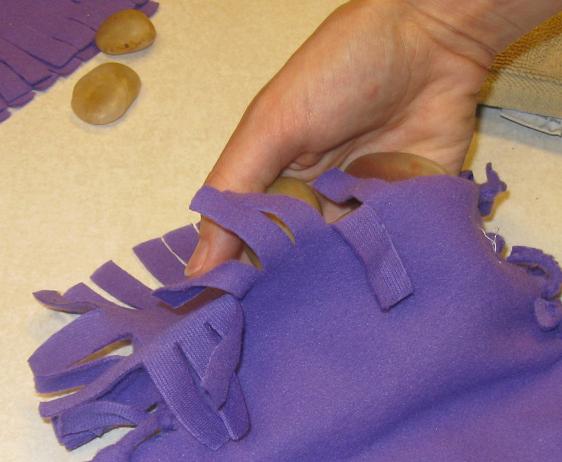 Then subdivide each pile evenly between the four pockets of each color. Close them up (again tying only every other tab pair,) and you're ready to start assembling your blanket.
.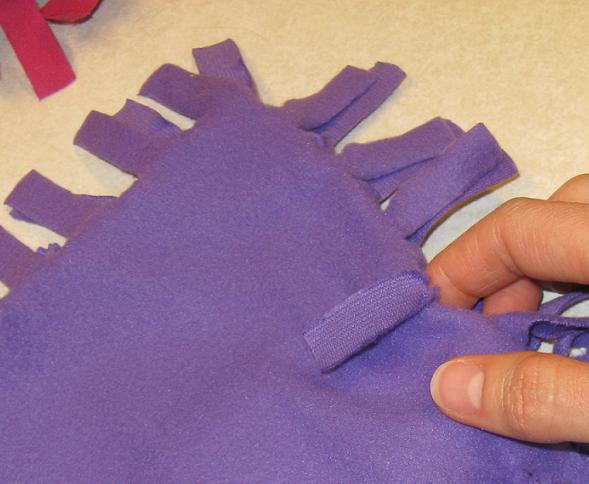 You may find it helpful to tuck in all the tied pairs so that it's easier to see what you're doing. It's going to get pretty tangled here in a minute.
.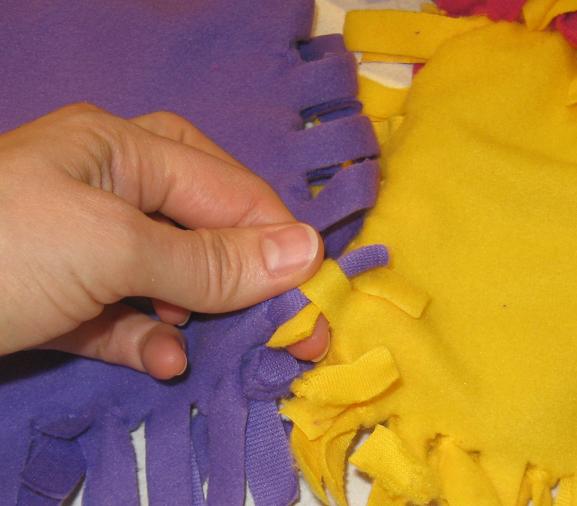 Line up your tabs with the square you want to put next to it, and tie each section twice: bottom tab to bottom tab, and top to top. Make sure to pull each one tight enough that there's no gap remaining, otherwise smaller rocks might leak out. And if you get confused halfway through about where your tabs were supposed to line up, no big deal — just grab loose ends and tie them to other loose ends until it's all snug. Once you have four squares across, start the next line of squares above it.
.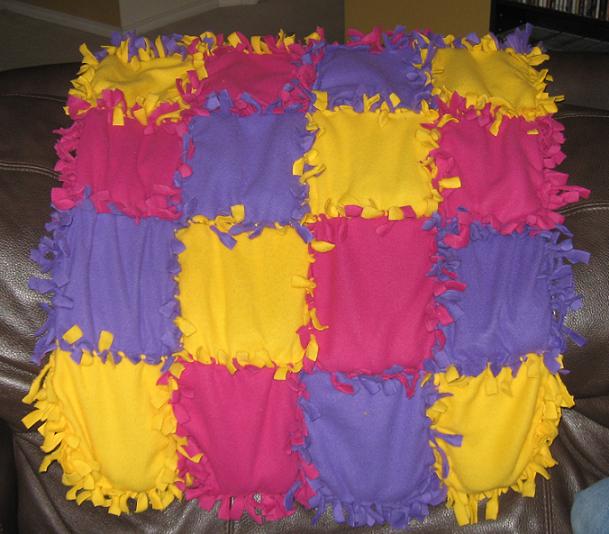 Tie off the tabs all around the outer edge, and you're done! In my house we have to do everything in twos to make it fair, so I actually combined my two knot-a-quilt kits, to give the GFCFGirl all the purple, pink and yellow squares, and the GFCFBoy all the blue, green and orange squares. One of the few fringe benefits of having multiple kids on the spectrum. Nyuck nyuck nyuck…
.
Happy Knotting!