Happy Dia de los Muertos! Sometimes I forget that Mexican food is not as ubiquitous in the rest of the country as it is down here. In Texas, even the French restaurants have margaritas on the menu. So if you've never heard the word migas, please don't be put off — it's just a Tex-Mex omelette, when you get down to it. Except you can make it with a toddler hanging on your leg, because it doesn't require any fancy pan skills or delicate folding. It's a standing rule in my house that all recipes must pass the Gimped By a Toddler test.
.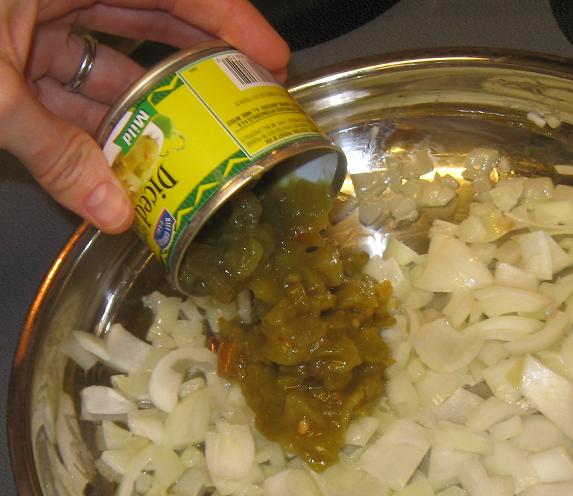 This recipe earns its south-of-the-border credentials right off the bat with a can of diced green chiles. Dump them into a pan with a diced onion and a little oil, and let it all start to get nice and soft. The mild green chiles are definitely kid-friendly; it's about the flavor, not the heat. Of course you can go with a spicier blend if you prefer, but either way make sure your can has nothing but green chiles in it. There's really no excuse for any added ingredients with this one.
.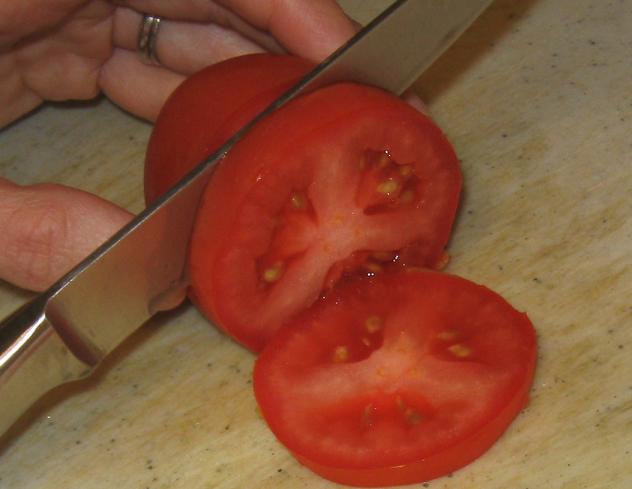 Meanwhile, cut up one roma tomato into chunks, and throw it into the pan as well, seeds and all.
.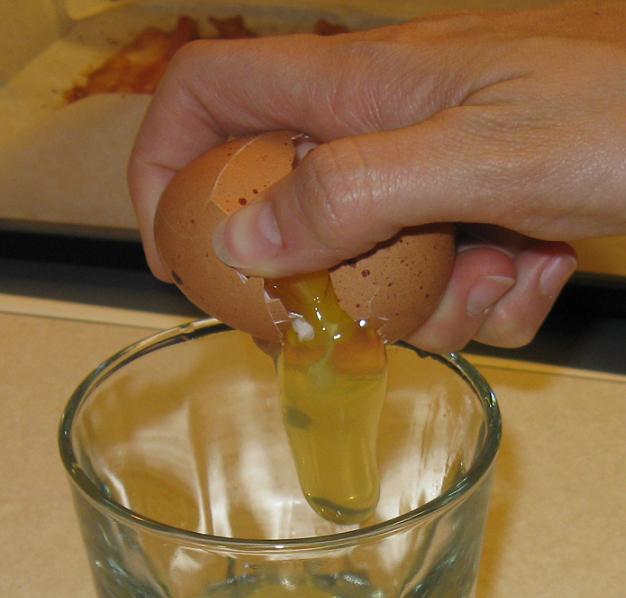 While your onions, peppers, and tomatoes continue to sautee, crack open 8 eggs and scramble them. A drinking glass works just as well as a bowl for this, by the way, and it's easier to fit into the dishwasher.
.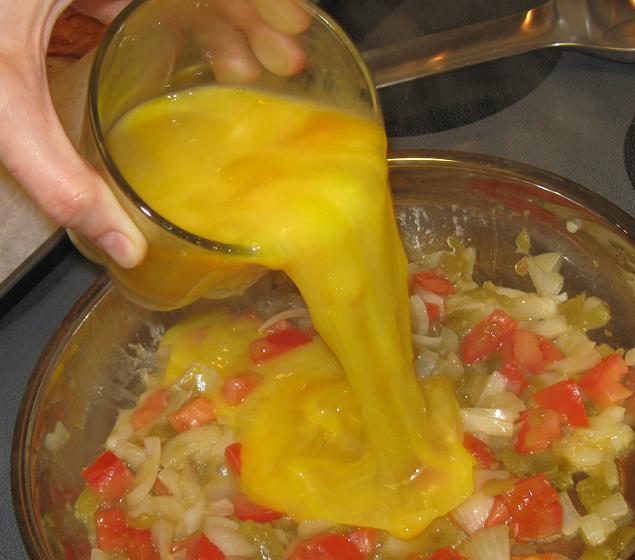 When the onions are translucent, pour in your eggs…
.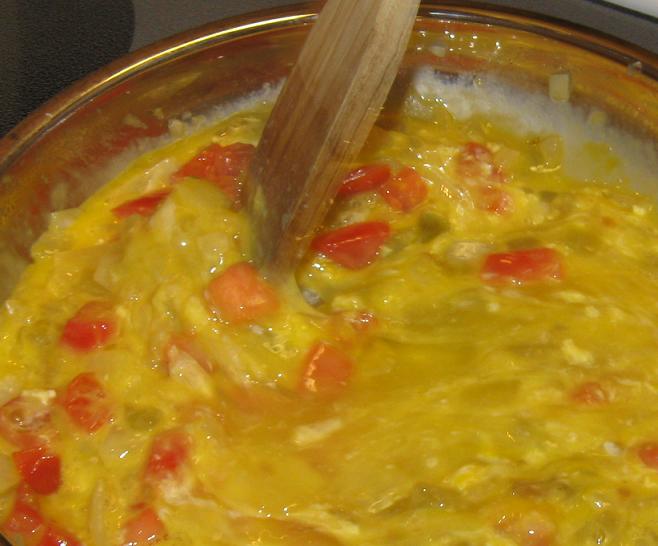 …and stir them frequently as they cook. They're going to tend to stick to the bottom of the pan a little more than plain scrambled eggs, so you have to keep them moving.
.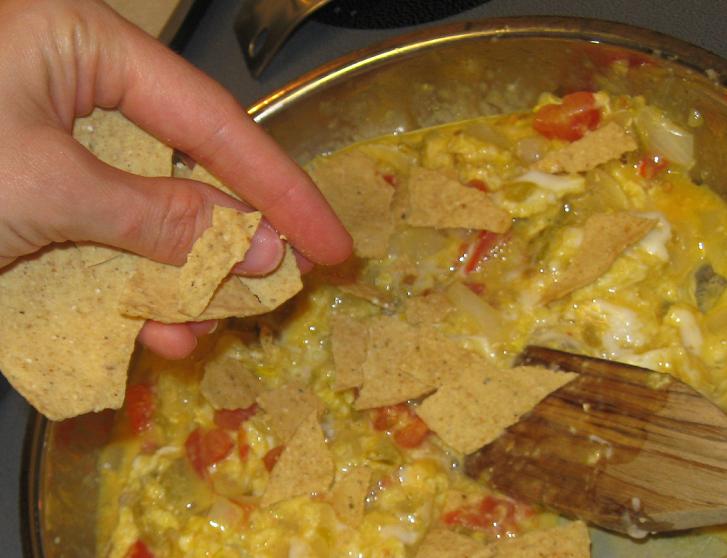 When the eggs are about half-set, break up a corn tostada, or handful of 100% corn tortilla chips, and mix it into the pan. The tostada bits will absorb just enough moisture to still be firm like a corn tortilla, but not sharp enough to stab you in the roof of your mouth.
.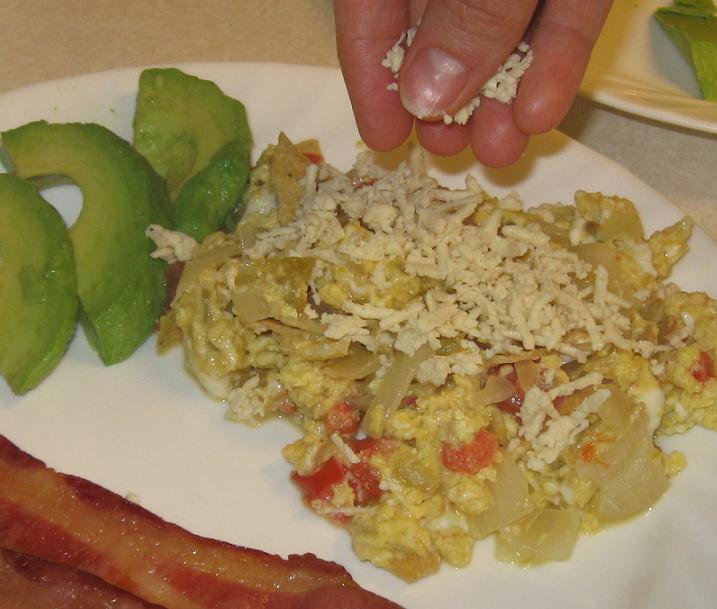 Traditional migas call for cheese, so sprinkle some Daiya on top of your finished eggs if you want. Serve with salsa and slices of avocado for a traditional Mexican flavor, or a pile of bacon for an American slant. Or transcend the borders and go with both!
.
Happy Eating!
.
Migas
1 medium onion
1 can diced green chiles
1 roma tomato
8 eggs
1 corn tostada (or six 100% corn tortilla chips)
Daiya cheese substitute (optional)