UPDATE: The giveaway contest is over! Thanks to everyone for participating, and congratulations to the winner!
Guess what, y'all? Today is this website's one-year anniversary. Happy birthday to us! To celebrate, I'm going to have a little giveaway. All you need to do is post a comment below, telling me what kind of recipes you want to see more of in the future: maybe it's dinners, or desserts, or maybe you've just got a pile of rutabaga sitting in your kitchen and you need a good GFCF recipe to use it in — you tell me!
.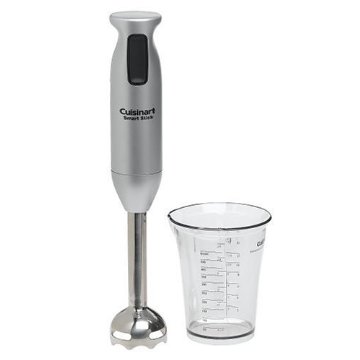 I'll draw one post number at random to receive this Cuisinart immersion blender, in the winner's choice of white or chrome. This handy little tool is truly indispensable in my kitchen, and I use it to make smoothies, soups, and most especially, to puree veggies to an absolutely smooth consistency so I can hide them in a variety of places in my children's diet. I want to share my blending joy with you, so post your comment below, and then make sure to check back to see if you won! The contest ends at 9 PM Central Time (US) one week from today, on May 2nd, 2010.
And just to get your imagination working on what amazing things you'll be able to do with your new immersion blender, here's one way you can use it!
.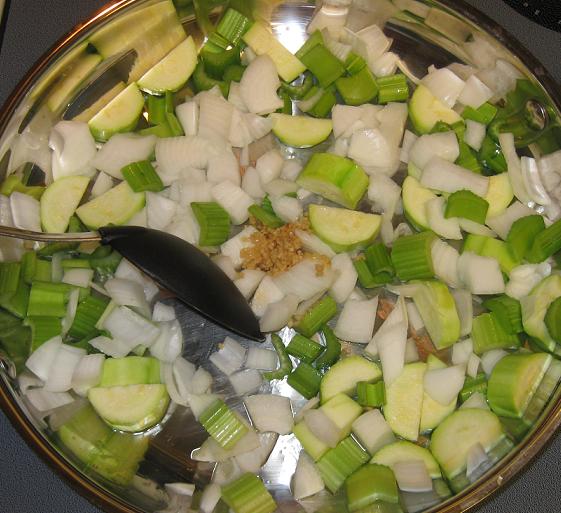 The key to chicken and garlic soup is neither the chicken, nor the garlic. Well, the garlic is pretty important. But the key for us is the mirepoix, which is just a fancy French word for starting a soup with a base of common aromatic vegetables. Of course 18th-century French children didn't get the modern advantage of having their veggies turned into pureed ninjas, they just had to suffer.
In this case, I'm using zucchini, onion, and celery, but the more traditionally-used carrots will also be coming in a minute. Right now that's one peeled zucchini, four stalks of celery, and one onion, sauteeing slowly in a little olive oil. Plus 2 cloves of minced garlic there in the middle.
.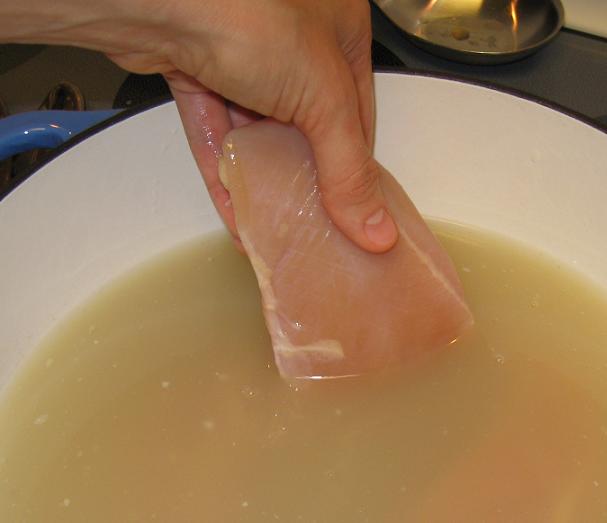 Meanwhile, heat 6 cups of gluten-free chicken broth (Pacific Foods is one safe brand, or you could always make your own) in a giant soup pot, and submerge 3 whole chicken breasts to start cooking. [As always, the brands I use were GFCF at the time of posting, but manufacturers can change formulas without warning. Always check your labels!]
.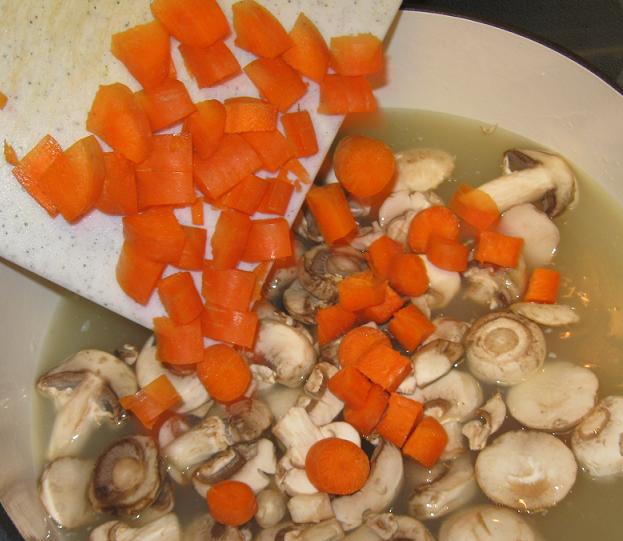 Dump in one chopped carrot, and an 8-ounce container of sliced mushrooms. Now, I throw these big pieces in because my kids don't care about carrots or mushrooms. But if yours do, just put them in the sautee pan with the other veggies instead, and it'll be our secret.
.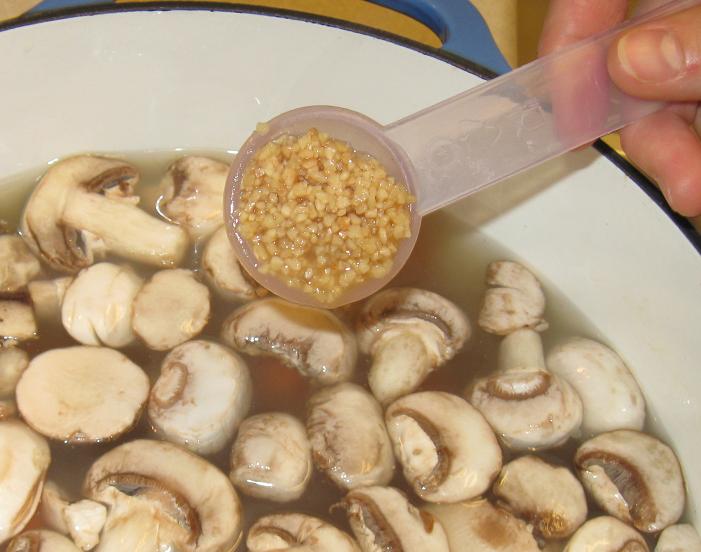 Add 1 Tablespoon (or roughly 6 cloves) of minced garlic to the soup pot…
.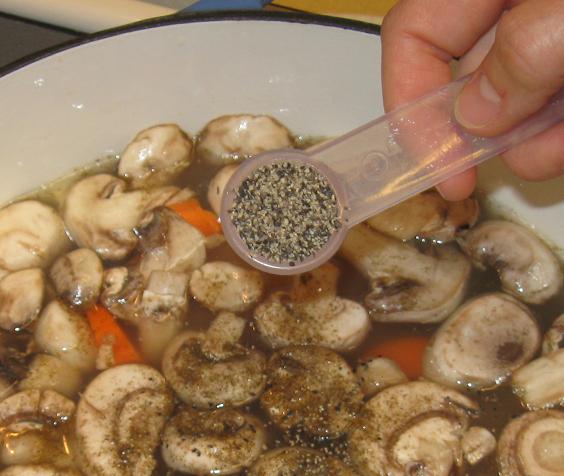 1/2 teaspoon of pepper…
.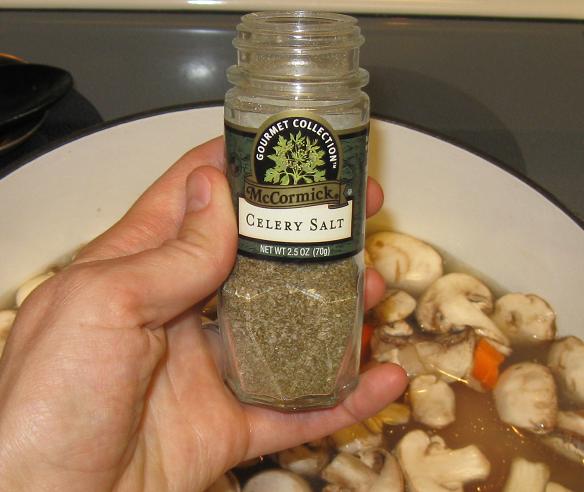 And 1 teaspoon of celery salt. Since this is technically a spice blend, there's a chance some off-brands will add a gluten ingredient to keep the grains from sticking to each other. McCormick spices aren't all gluten-free, but they have committed to always disclosing any source of gluten on their labels, so we can check that this one is safe.
.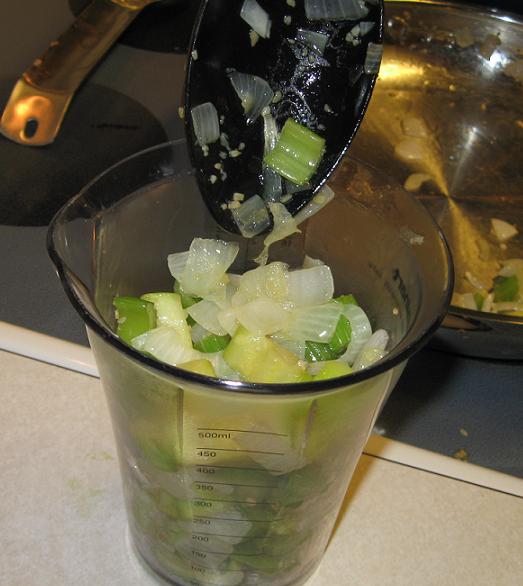 Once your sauteed veggies are nice and soft, probably a good 15 minutes on medium-low heat, spoon them into your blending container, keeping in mind that you may have to do multiple batches.
.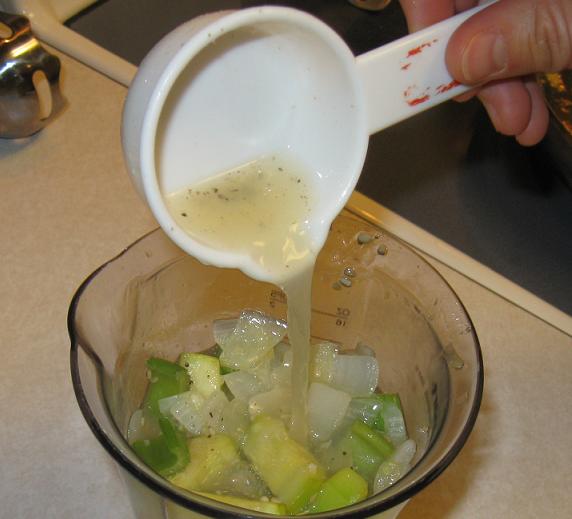 You'll need to steal a couple of scoops of liquid from the pot to make it blendable. Be careful not to burn yourself like I did, unless you like wearing bandaids. (Actually, as a kid I loved the smell of Curad plastic bandaids. How weird is that?)
.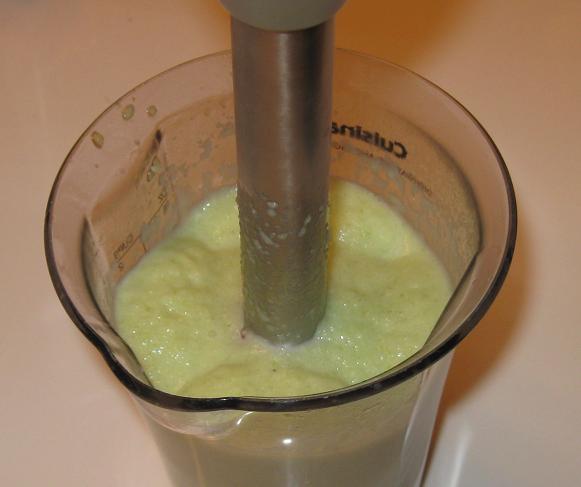 Immerse your immersion blender, and fire away!
.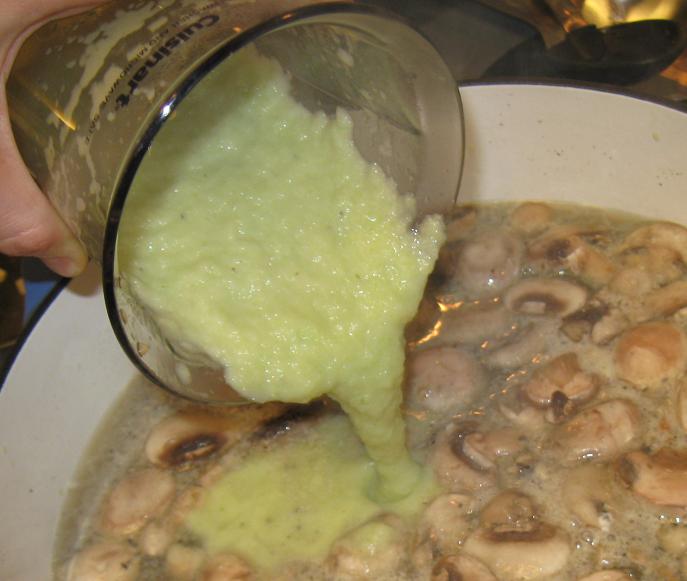 If I'd sauteed the carrots and mushrooms instead of dumping them in whole, this concoction would be a lot more brownish-orange instead of light green. Feel free to switch up the vegetables to your liking, or put in two or three times as many to beef up the nutrition content, it's not really going to make much difference: it'll still taste like chicken and garlic soup in the end.
.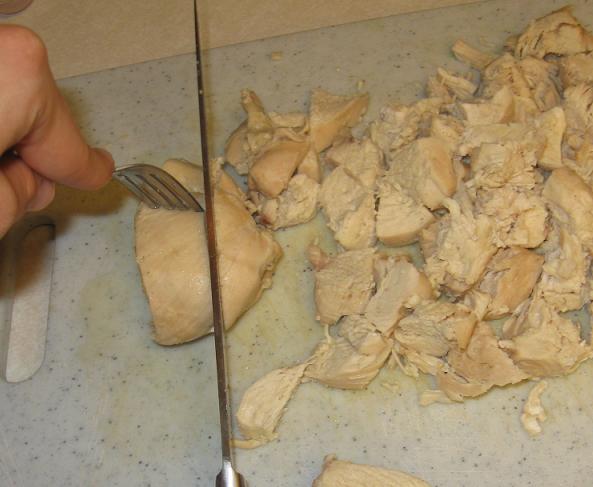 Eventually your chicken breasts should be cooked all the way through, at which point you can drag them out with a pair of tongs, dice them up, and throw the pieces right back into the pot.
.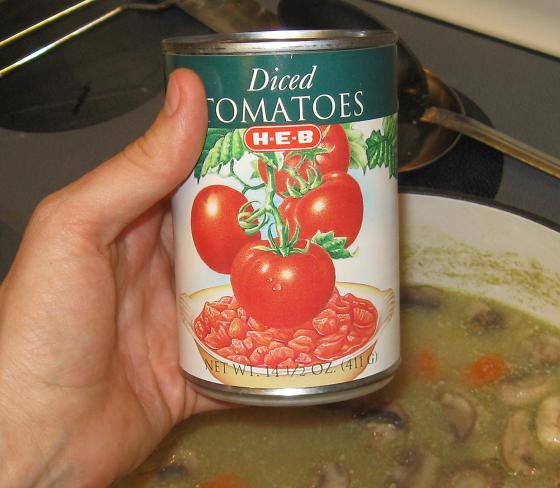 I also like to add in a drained can of diced tomatoes. (This is one of those foods that should have nothing but tomatoes and maybe a little salt listed on the label, by the way. Don't even bother with anything else.) The tomatoes are just kind of a nice addition, though, not a dealbreaker, so if you're not a fan of tomato chunks in your soup, then by all means, skip it.
.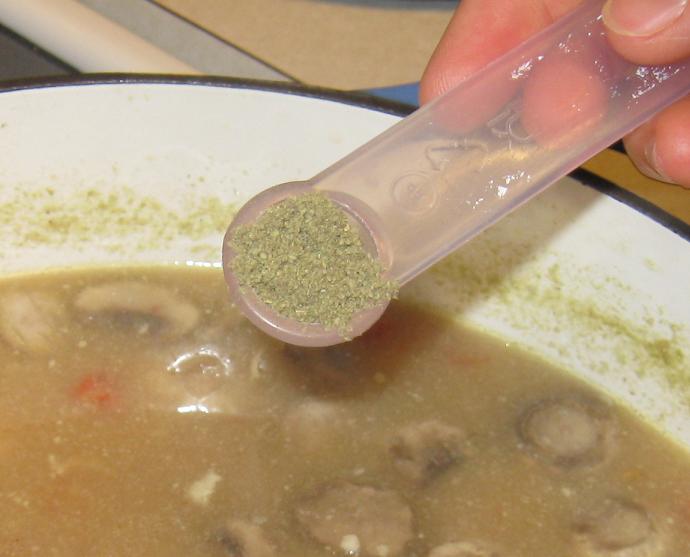 Near the end, add in about 1/2 teaspoon of sage, and 1/2 teaspoon of sea salt. If your soup has been simmering for such a long time that the broth has become more concentrated, you may need to adjust these spices downward a bit. Or alternately, you could add a little more chicken broth to thin it out. When it comes down to it, as long as the chicken meat is cooked, you can simmer for as little or as long as you like. I like to get it going in the late afternoon and then just let it hang out on the stove until I'm ready to serve dinner. Much easier than trying to tie everything together at the last moment before eating.
.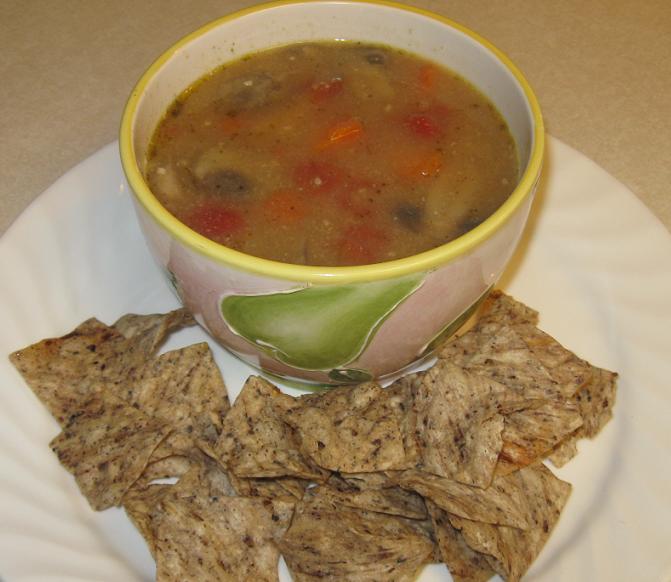 Those are Boulder Canyon rice & adzuki bean chips that I'm enjoying with this delectable bowl of soup, by the way. They may claim to be "natural salt" flavor, but they have a definite kick to them. My kids still like them, but my kids like salsa too, so keep that in mind.
Don't forget to post a comment to enter the giveaway!
.
Happy Eating!
.
Chicken & Garlic Soup
1 medium onion
4 stalks celery
1 small zucchini
2 cloves minced garlic
1 carrot
8 oz. sliced mushrooms
6 cups Pacific Foods chicken broth
3 chicken breasts
6 cloves minced garlic
1 can diced tomatoes (drained)
1/2 tsp pepper
1 tsp McCormick celery salt
1/2 tsp sage
1/2 tsp salt