What's that, you say? GFCF pizza? Is that even possible? You bet!
.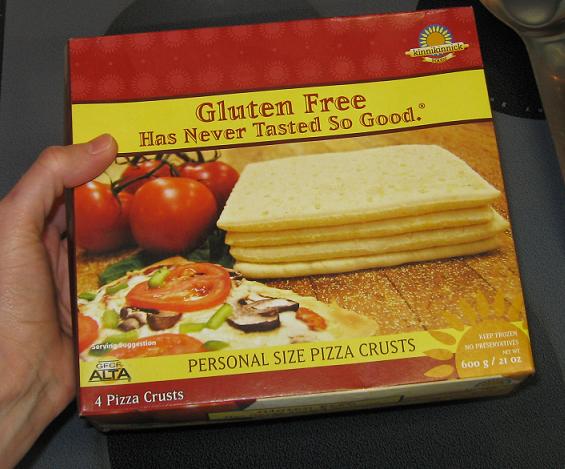 You can certainly make your own gluten-free crust if you're feeling bakey, but in my opinion that's only worth doing when the storebought versions aren't any good. And I'm here to tell you, these Kinnikinnick GFCF pizza crusts are good. (And just so we're clear, they don't pay me to say that — they don't even know I exist. I'm just a happy customer, that's all.)
.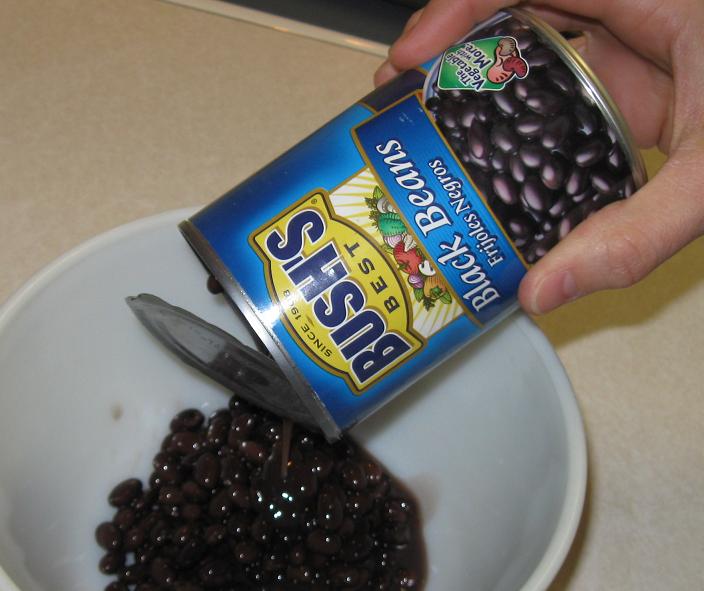 Of course you could always go with a standard Italian pizza, tomato sauce and pepperoni and all that, but I'm jumping continents for a less conventional dish. On my Mexican pizza, we're going to be using a black bean mixture for the sauce. First, start with a can of Bush's black beans, mostly drained. [As always, the brands I use were GFCF at the time of posting, but manufacturers can change recipes without warning. Always check your labels!]
.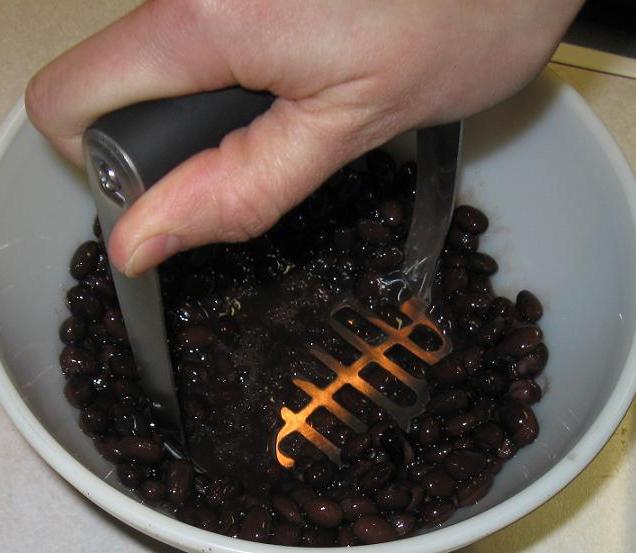 Mash the beans up with a potato masher, or just use a fork if you don't have one. Alternatively, you can start with a can of refried black beans instead, and save yourself the work. This might also be a good option if your kids are sensitive to lumpy textures.
.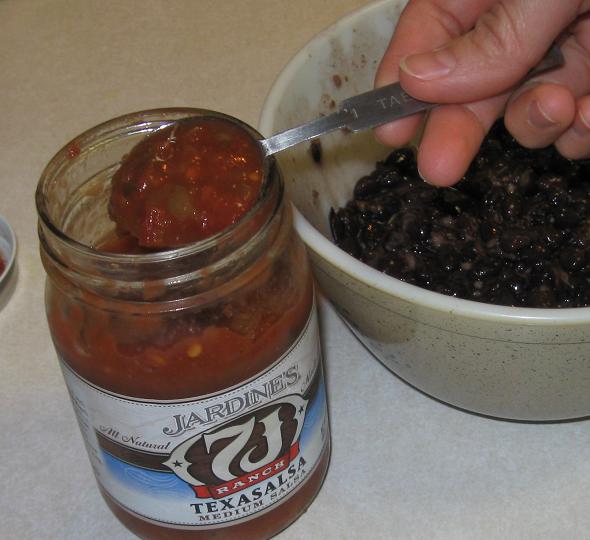 Now add in two Tablespoons of your favorite GFCF salsa. Mine's a local brand, but one national brand option is Tostitos (the All-Natural line of flavors only.)
.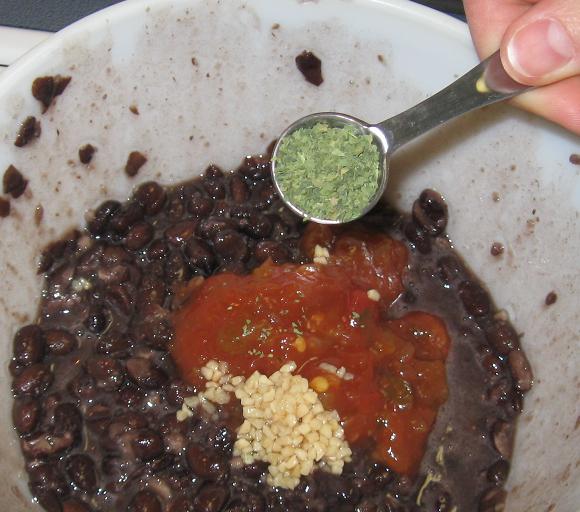 Next add in 2 cloves of minced garlic (or 1 teaspoon of the jarred kind,) and 1 teaspoon of dried cilantro.
.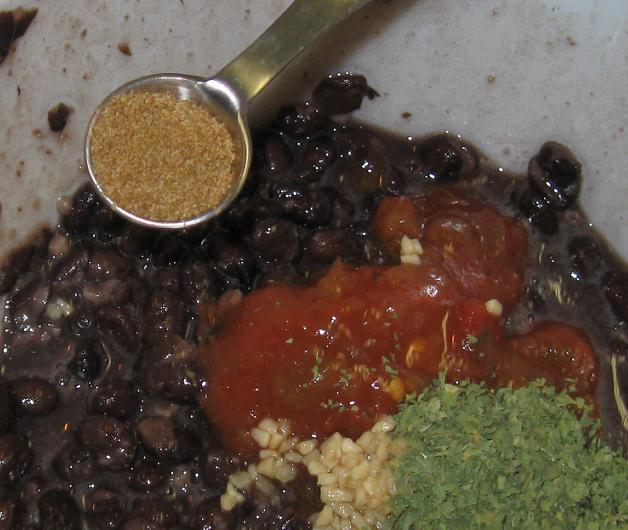 And while you're at it, toss in one teaspoon of cumin, too.
.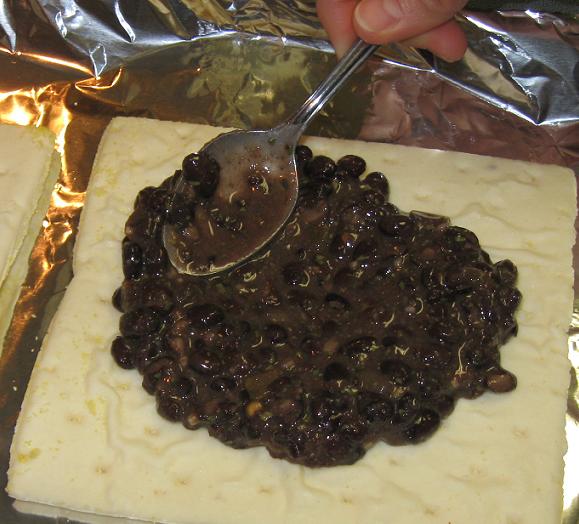 Mix everything thoroughly, and spread it onto your crusts with the back of a spoon. This will make enough to liberally cover 2-3 of the Kinnikinnick crusts, so if you're making more than that you'll want to increase the recipe accordingly.
Now as for the cheese substitute… You can of course use any of the soy-based fake cheeses available, but I believe I've mentioned before what I think of those. (Do also be careful with them, as many fake cheeses still contain casein. "Sodium Caseinate" is the deadly ingredient you'll need to watch out for.) There's actually a brand new cheese substitute on the market called Daiya, which is made from coconut instead of soy. We had a chance to try it at a local GF restaurant, and it was awesome! But while it is slowly starting to get distributed to grocery stores for individual sale, I still can't get it in any of mine yet (I'm looking at you, Whole Foods!) So in the meantime I am continuing to use something a little more unorthodox…
.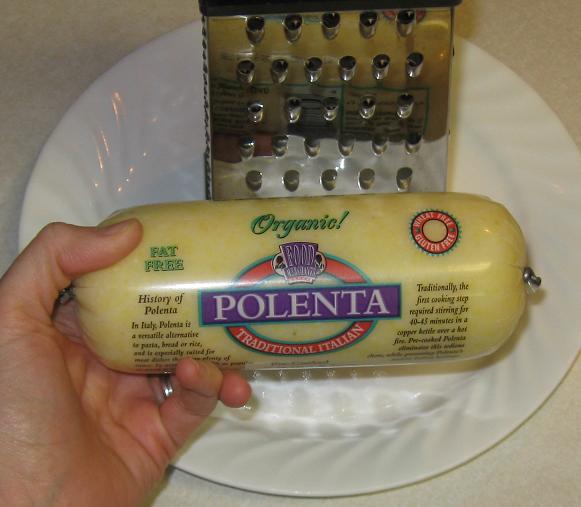 Polenta! Let me be the first to admit, this was not my idea. I honestly cannot remember where I first read this suggestion; if anyone knows please leave a comment so I can give proper attribution. For those of you not familiar with it, polenta is a kind of cooked, mashed up corn meal, usually stocked in these plastic tubes in the pasta aisle of regular grocery stores. It tastes like pretty much nothing, which is far better than tasting like a bad fake cheese, in my humble opinion.
.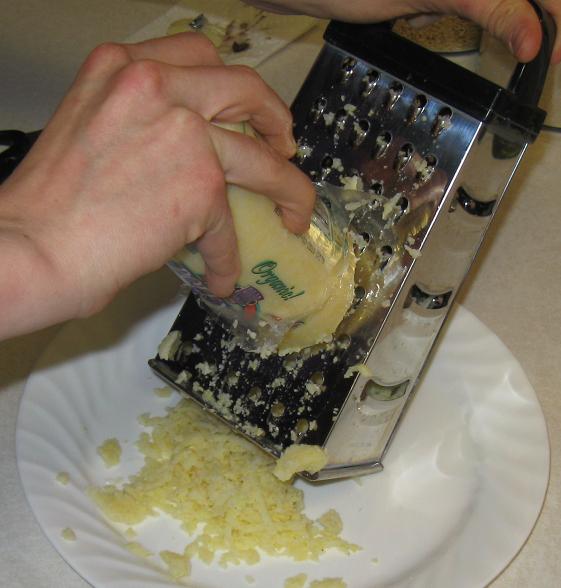 Most importantly, you can grate it just like real cheese! Leave the wrapper over the part you're holding though, because otherwise it's going to get all mooshed up in your hand.
.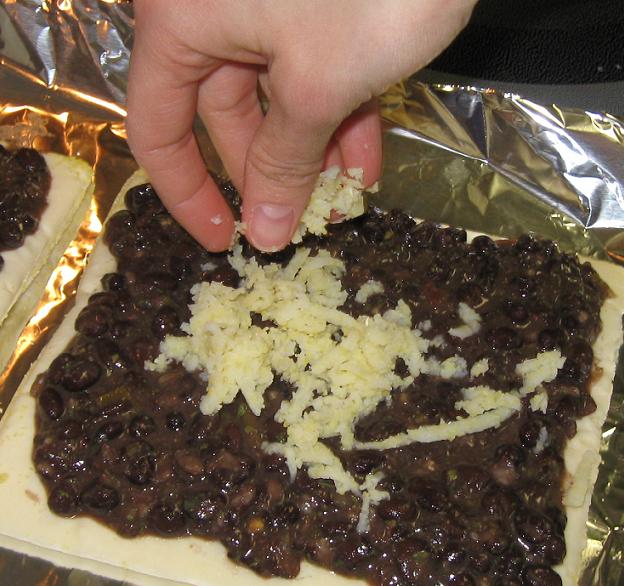 Granted, it's not really going to melt, but it will brown on the edges a bit, so in the end it looks pretty darn good. Just sprinkle it on exactly like you would shredded cheese.
.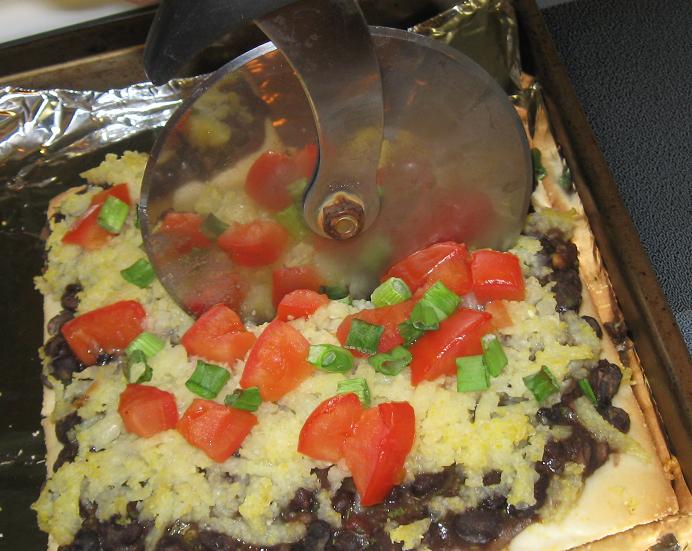 Pop it in a 375 degree oven for 10-15 minutes, and you're good to go!
.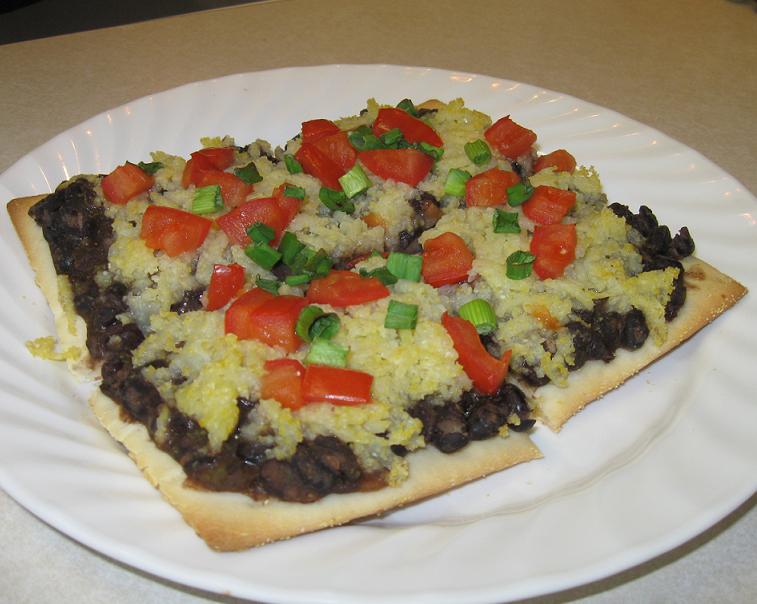 As with any pizza, the range of toppings is completely up to you. But I do highly recommend tomatoes and green onions with this black bean sauce. It's very Mexican-y, don't you agree?
.
Happy Eating!
.
The GFCF Lady's Mexican Pizza
2 Kinnikinnick GF pizza crusts
1 can Bush's black beans
2 Tbs GFCF salsa
1 tsp minced garlic
1 tsp dried cilantro
1 tsp cumin
3/4 cup grated polenta
1 roma tomato
2 green onions