What's that you say? It's Monday, you're tired, and you want another cop-out meal that requires practically zero effort? Well okay!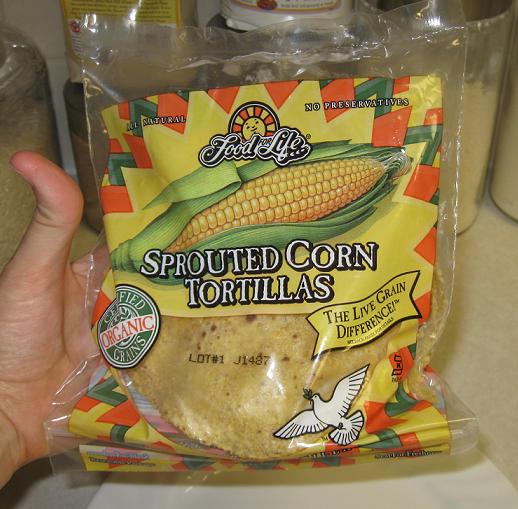 Let's make some tacos! You have three options for the wrapper: a 100% corn crunchy shell, a 100% corn soft tortilla, or… these crazy things. They're corn tortillas, but they're from "sprouted corn." Basically it means they grind the corn up later in the growth process, so the plant is more mature and it's had longer to build up more nutrients. I dunno, we like them mostly because the texture is much thicker and chewier, like a flour tortilla, rather than those translucent corn tortillas that tear if you look at them funny. Plus, the GFCFHusband says normal corn tortillas taste like lard and he hates them.
Anyway, they're in the freezer section of our health-food store. You can either microwave them, or go all fancy and toast them in a dry pan on the stove, whatever floats your boat.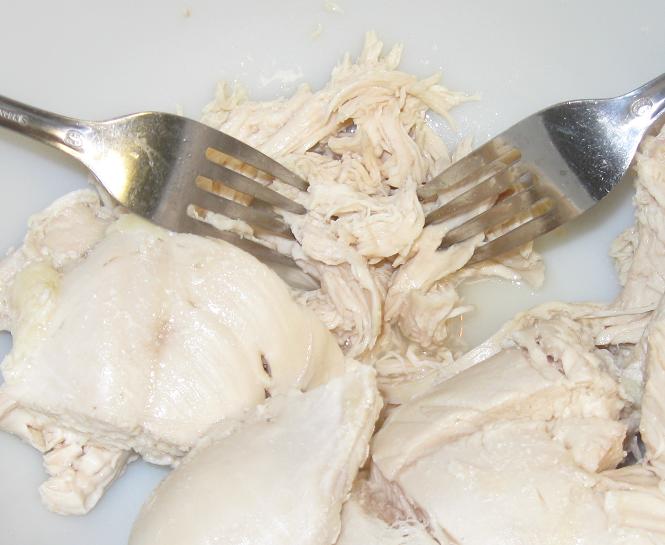 Shred some cooked chicken, or brown some ground beef if you swing that way. If you season the meat, don't use those pre-made "taco seasoning" packets, because they're always full of gluten. You can easily put the spices together yourself–those things are basically just cumin, chili powder, maybe a little onion powder, and salt. My chicken up there? Totally unseasoned. This was a lazy, lazy night for me as I recall.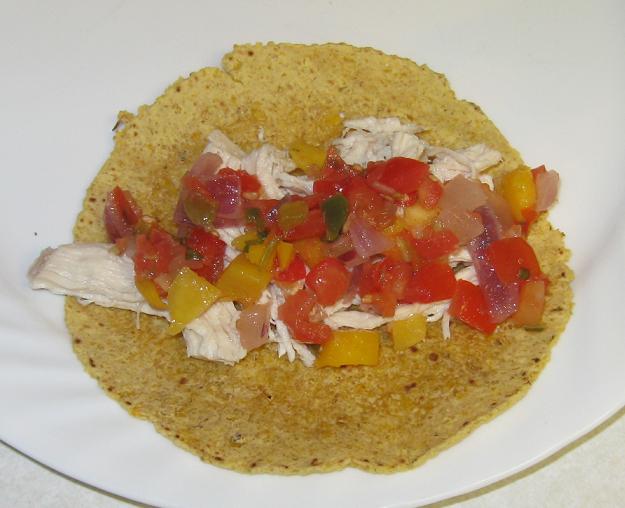 This fabulous stuff is mango pico de gallo (pico de gallo is just finely diced tomato, onion, cilantro, and jalapeno pepper, for you people who don't live within spitting distance of the Mexican border.) It's not hard to make, but it is a little time-consuming to chop everything up, so I'll confess I usually buy it pre-made at our grocery store. Plain old diced tomato would work just fine too.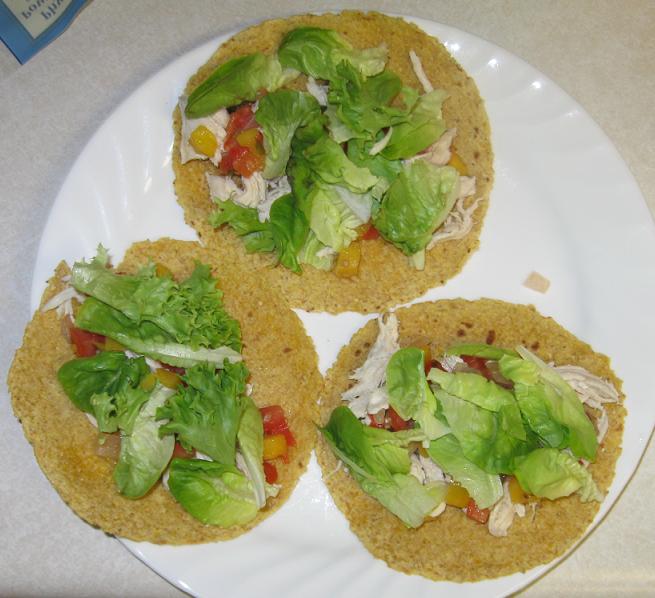 Sprinkle on some lettuce and you're good to go! What these tacos really need is some avocado, but alas, I didn't have any this night. That is a surprisingly rare occurrence, I should tell you. I almost always have guacamole in the house. You could also add refried beans, black beans, or mexican rice to bulk them up a bit, if you wanted.
Happy Eating!
Tacos
100% corn tortillas or tostadas
Shredded chicken or ground beef
(Season to taste with cumin, chili powder, onion powder, and salt)
Toppings:
Tomato
Lettuce
Avocado
Beans