Oh, hello there. How have you been?
Me? Oh, nothing. Well, everything. But as far as neverending chaos goes, it was really quite tedious and I won't bore you with excuses. Instead I offer up a delectable dessert to make up for my absence and hopefully soften your hearts to forgiveness.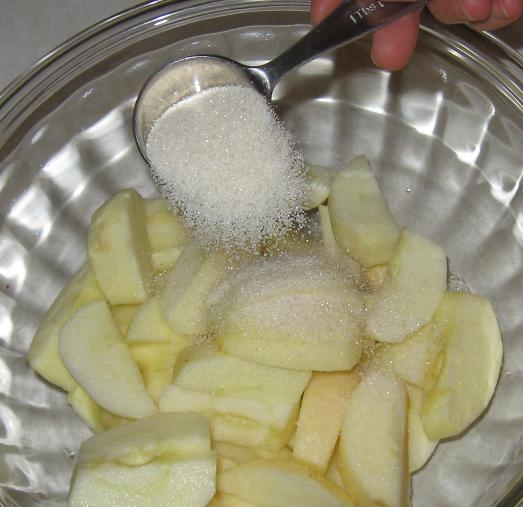 First, peel and core 3-4 pounds of apples, and sprinkle on 1 Tablespoon of sugar.
Add 1 Tablespoon of lemon juice…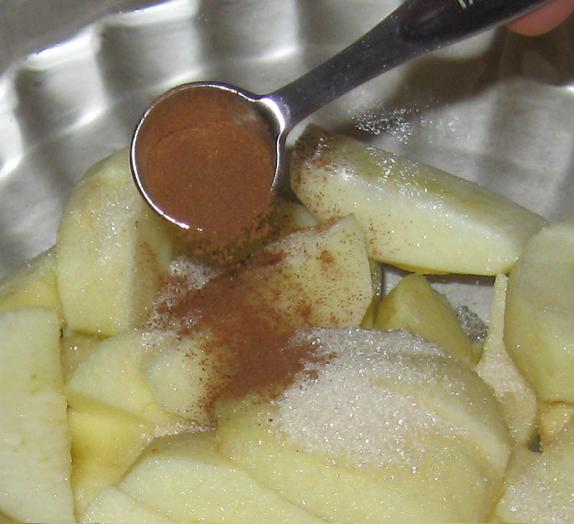 …and 1/2 teaspoon of cinnamon, then mix everything thoroughly. Toss the resulting coated apple pieces into a greased 9×9 baking dish and set it aside for a moment.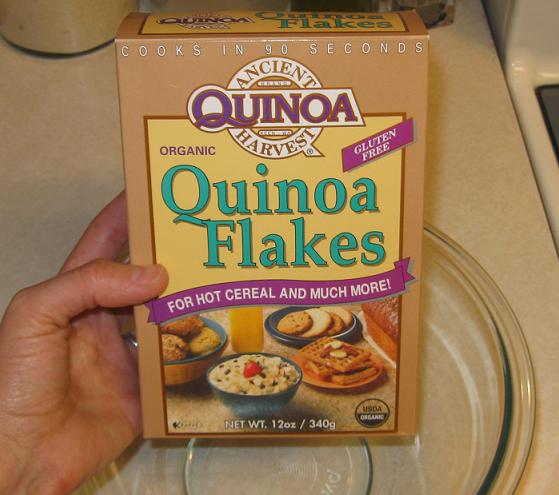 Wasn't that easy? Now for the crisp topping. What we have here is 1 cup of Ancient Harvest quinoa flakes, which have all the nutrients of their quinoa heritage but none of that pearly texture.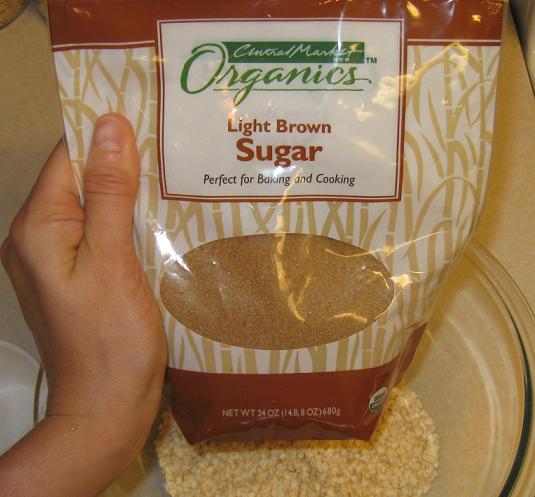 Next add 1 cup of brown sugar.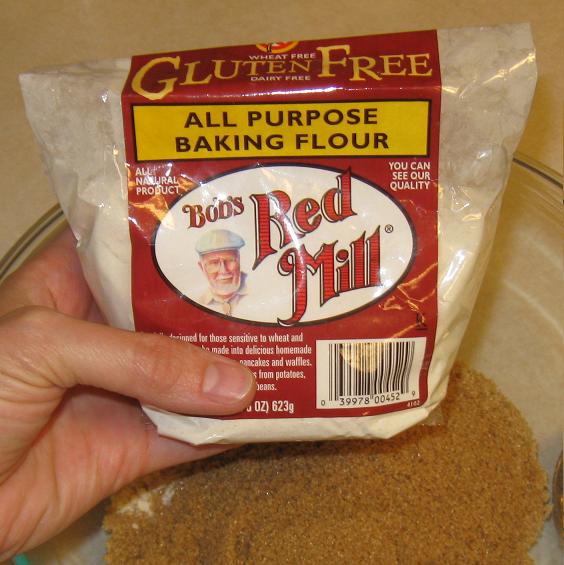 And 1/2 cup of gluten-free flour. Any blend will work, including plain rice flour; it's just there to bulk up the crisp topping a bit.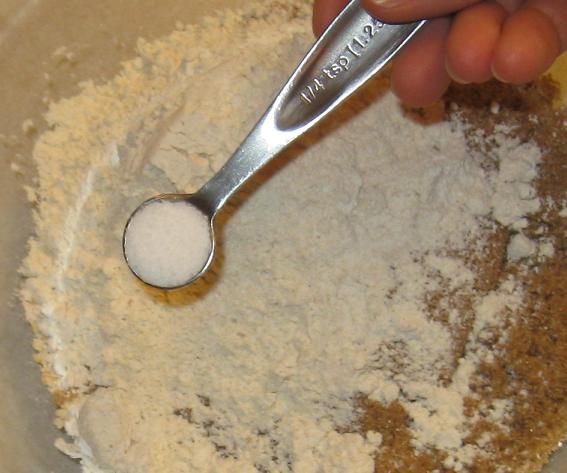 Also throw in 1/4 teaspoon of salt.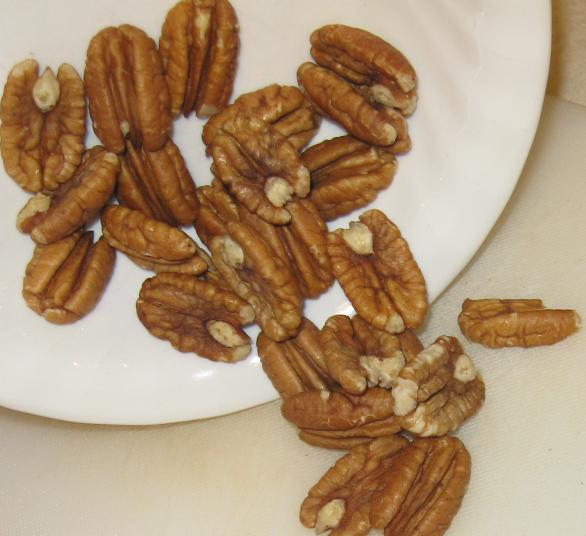 Take about 1/2 cup of pecans, and toast them in the microwave for about a minute. It will be easier if you buy the kind that's already broken into tiny bits and pieces, but if not…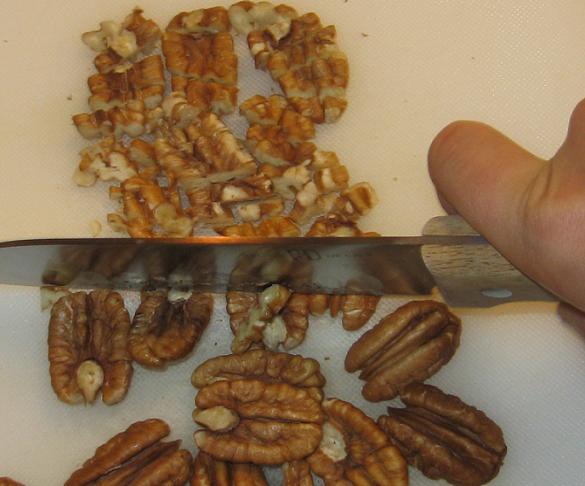 …that's what a knife is for!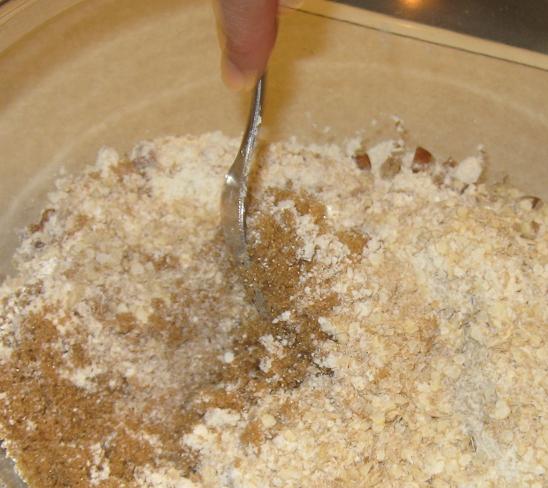 Now, blend all those dry ingredients together thoroughly.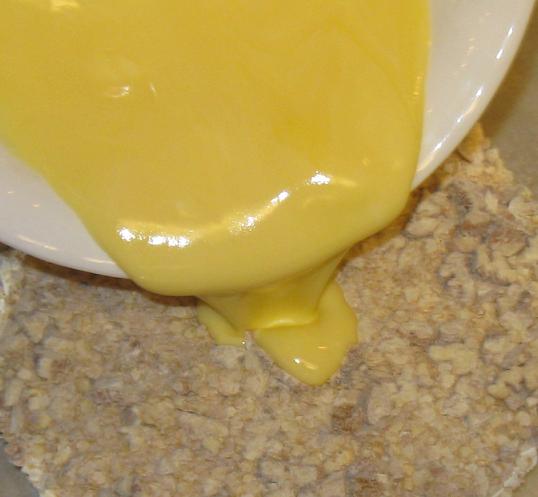 Finally, melt 1 stick of Fleischmann's Unsalted Margarine (NOT the Original flavor, which contains casein,) and mix it into the bowl. Other butter substitutes like Spectrum shortening will work fine as well.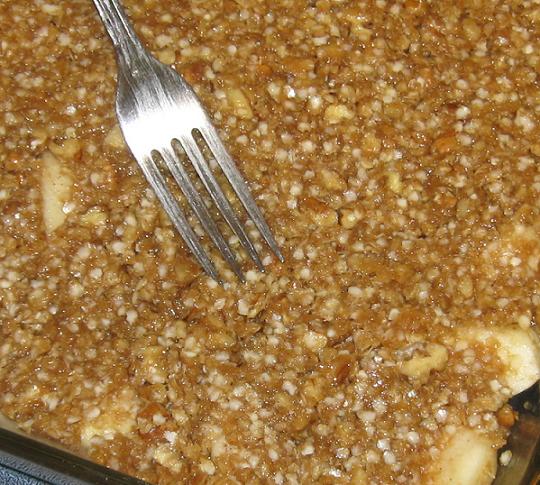 Press the topping firmly over your apple pieces, and bake in a 350 degree oven for 40-50 minutes.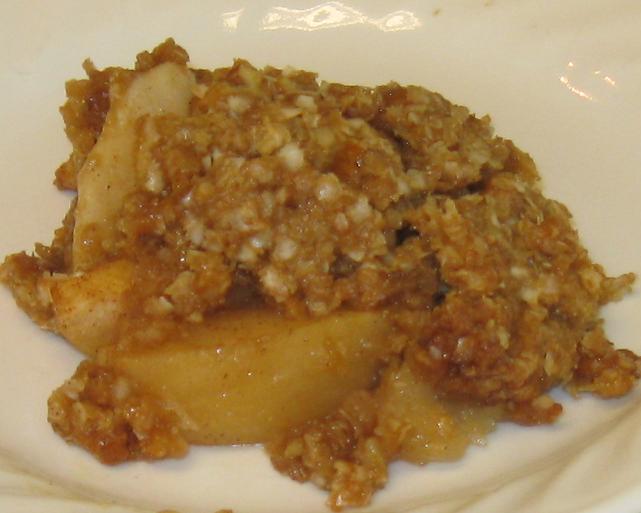 Go ahead and pretend that you're not going to eat that for breakfast the next day. I'll pretend I believe you.
Happy Eating!
Apple Crisp
3-4 lbs apples
1 TBS sugar
1 TBS lemon juice
1/2 tsp ground cinnamon
1 cup Ancient Harvest Quinoa Flakes
1 cup brown sugar
1/2 cup all-purpose GF flour
1/4 teaspoon salt
1/2 cup chopped pecans
1/2 cup (1 stick) Fleischmann's Unsalted Margarine (NOT Original)