I have four main goals in my culinary exploits: less work, less expense, better nutrition, and better taste. And every once in a long while, I strike upon something that accomplishes all four at once. When this happens, let me tell you, I practically set off fireworks in jubilation.
But can I really improve on these delectable GFCF chicken nuggets I showed you how to make way back when? Oh, indeed. You may recall that at the time, I said, "I'd probably bread everything in nothing but almond meal, if the stuff weren't so darn expensive." Well it turns out, there was a less expensive source sitting right under my nose. Much less expensive, in fact!
.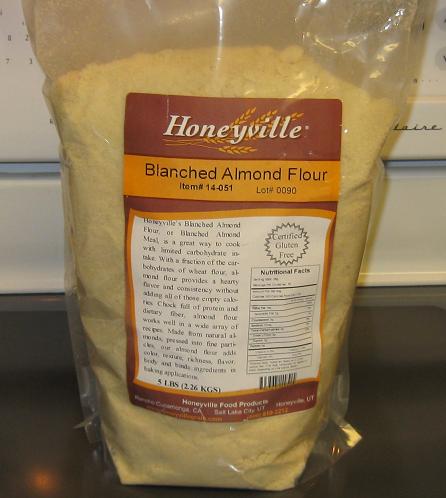 Honeyville Grain sells blanched almond flour at half the price of Bob's Red Mill. (The price drops even more if you buy it in 25 lb. bags, but I realize most of you aren't going to be able to go through it that quickly — though it does keep for a very long time in the refrigerator…) I've been experimenting with this stuff like a madwoman, and I have to say, I'm an almond flour convert at this point. The texture is just miles better than anything else out there in my opinion, and with the obstacle of cost removed (or at least reduced to the equivalent of every other GF flour out there,) there's no reason not to use it in practically everything.
.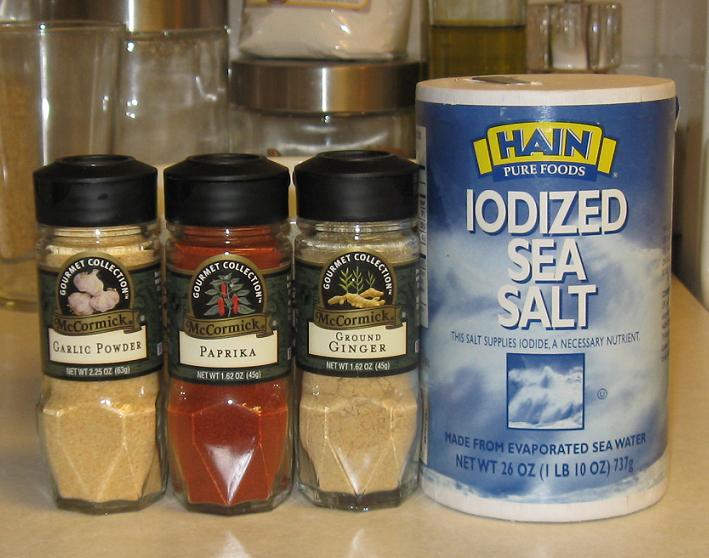 I'll try to post some recipes for baked items involving almond flour in the near future, but for now, let's get back to these amazing chicken tenders, shall we? I was exaggerating slightly when I said "nothing but" almond flour, there are a few seasonings that help this meal reach its full potential. Specifically, that's 1/2 teaspoon each of salt, garlic powder, and ground ginger, and 1 teaspoon of paprika.
.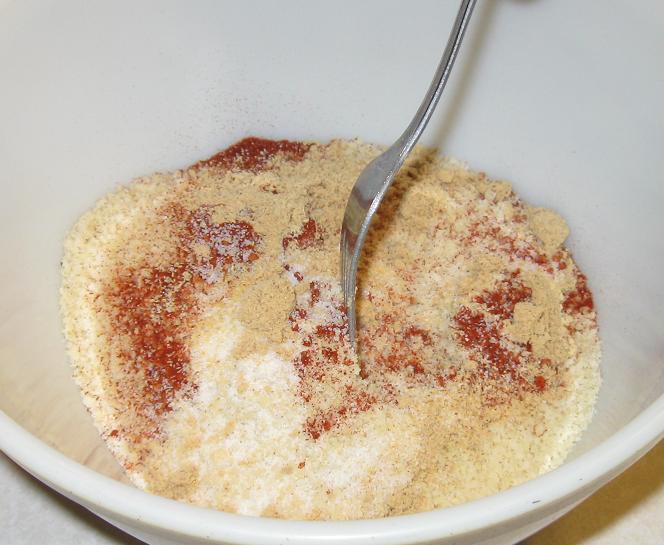 Blend all that into 1 cup of almond flour. (That's another important distinction between the Honeyville product versus Bob's Red Mill, by the way: Bob's Red Mill officially makes almond meal, which is a coarser texture, and doesn't work as well for baking. It would still work fine here, except for the part where it's twice as expensive.)
.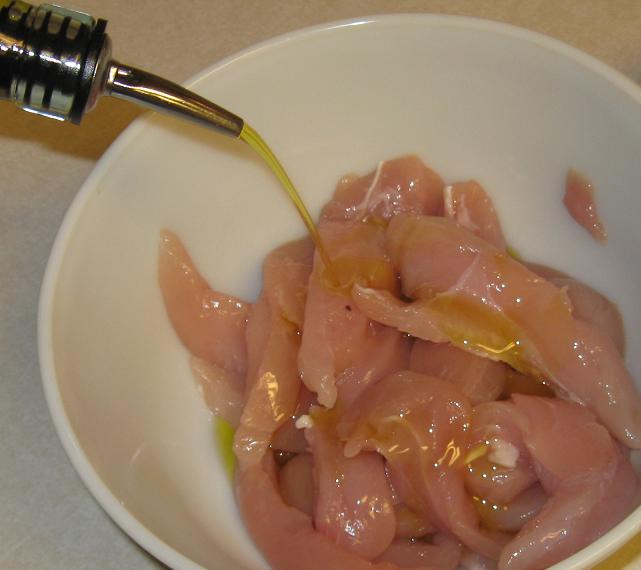 I'm using 2 pounds of chicken tenders straight out of the package, but you could certainly cut up your own chicken bits if you'd prefer. As always, make sure you get chicken meat that isn't injected with broth, as that may contain gluten. "Retained water" = good, "up to 3% solution" = bad. There's really no need to do an egg wash in this recipe, especially since the almond flour is already packed with protein. I just use about a Tablespoon of high-quality olive oil.
.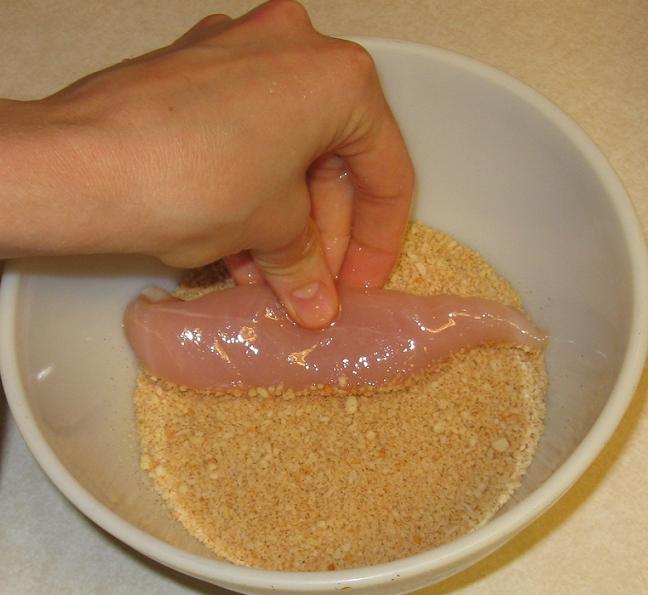 Roll your oiled chicken in the breading, and lay them out on a baking sheet lined with parchment paper.
.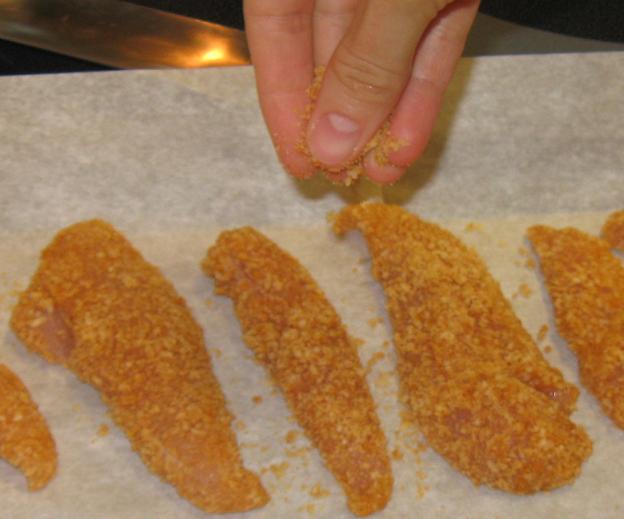 I sprinkle any leftover bits on top for a little extra crunch. The reason you can get away with doing these in the oven instead of frying them in oil is because the almond grains are too dense to get soggy in the oven like other GF breadings. They come out just as crunchy, with less effort.
.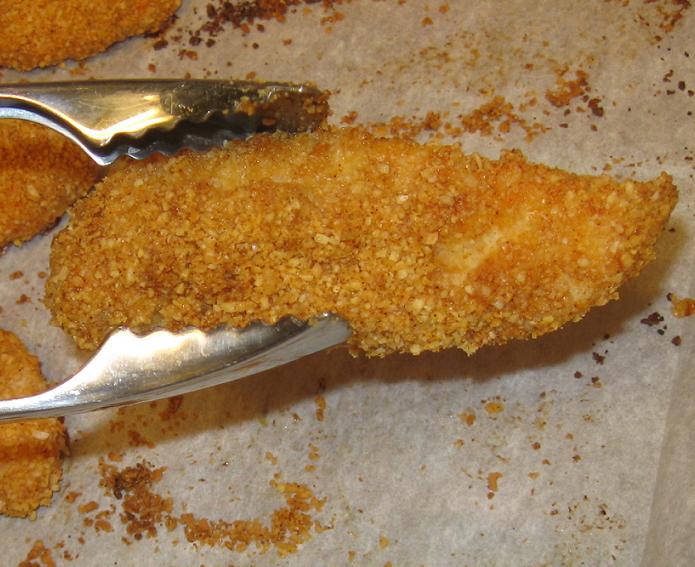 30 minutes in the oven at 400 degrees, and just look at that golden deliciousness! My whole family prefers the taste, plus it's more nutritious, costs the same as anything else a gluten-free cook would use, and involves less work and cleanup than frying. Time to light the fireworks!
.
Happy Eating!
.
Oven-Baked Chicken Tenders
2 lb. chicken tenders
1 Tbs olive oil
1 cup Honeyville almond flour
1/2 tsp salt
1/2 tsp ground ginger
1/2 tsp garlic powder
1 tsp paprika