It's another week of lunches! (Make sure you check out part 1 here.) It's impossible to believe I could come up with five more days with no repeats, isn't it? Well okay, actually, I didn't. I could have, but I would have had to rely on the fact that there are a bajillion kinds of fruit out there, and the meals wouldn't have been as balanced. As it is, there are four items here that you've seen before. Spot them all and win a prize! (Void where prohibited. While supplies last. And I have no supplies.)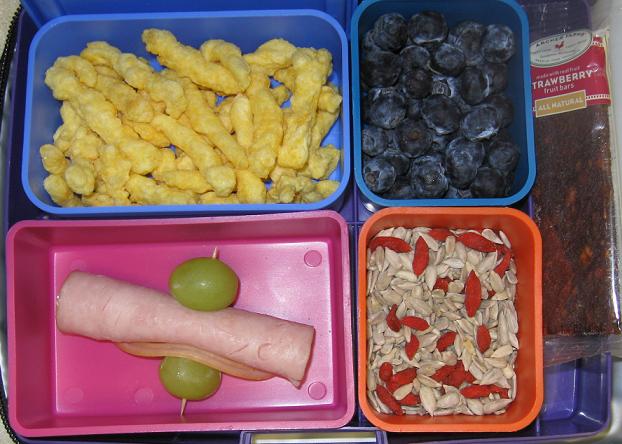 Monday!
—Robert's Gourmet Tings
–Blueberries
–Archer Farms (a Target brand) Strawberry Fruit bar
–Sunflower seeds and Goji berries
–Lunchmeat rollup with green grapes (Hormel Natural Choice Oven-Roasted Turkey)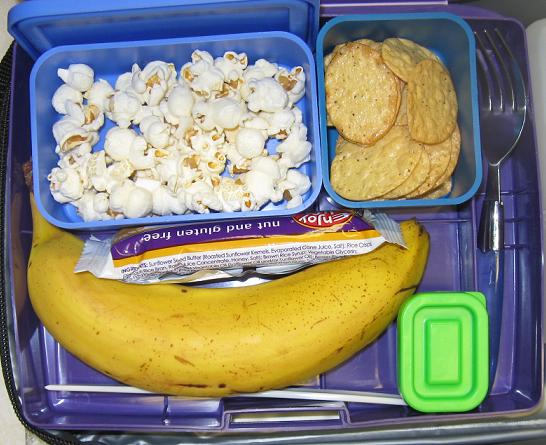 Tuesday!
–Central Market Organics lightly salted popcorn
—Mr. Krispers Salt & Pepper Rice Krisps
—Enjoy Life Sunbutter Crunch Bar
–Banana
–Peanut butter with a plastic knife for spreading on banana – that little green dip container is great for any kind of GFCF dressing or dip you can imagine.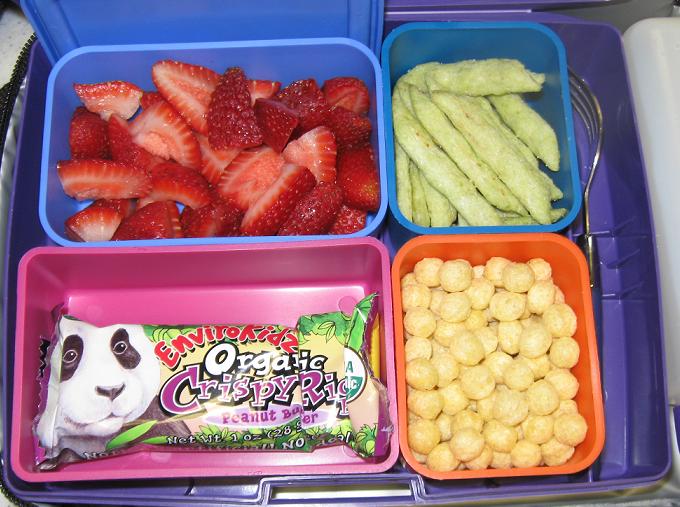 Wednesday!
–Strawberries
—Snapea Crisps
–Kix cereal (make sure you get the new box, which has a large ear of corn on it! Many stores are still offloading the old boxes that still contain gluten.)
—Envirokidz Peanut Butter bar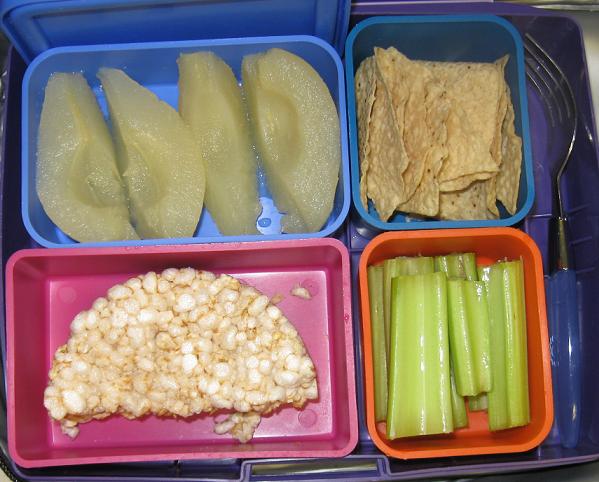 Thursday!
–Pears
–100% corn tortilla chips (Tostitos is one brand, though there are many choices and mine are generic)
–Celery sticks
—Lundberg brown rice cake with peanut butter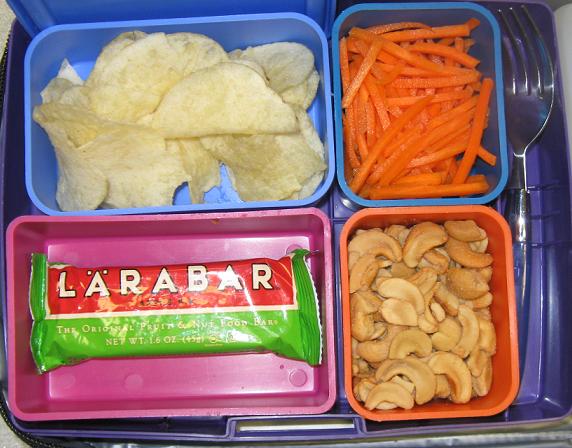 Friday!
–Lay's plain Potato Chips
–Carrot matchsticks
–Cashews
—Apple Pie Larabar
And just to prove I could have forced myself to have zero repeats if I really wanted to, here's a whole slew of other lunch ideas that weren't featured in either week:
Fruits:
Honeydew
Cantaloupe
Watermelon
Kiwi
Cranberries
Cherries
Blackberries
Mango
Pineapple
Avocado
Apple
Cherry tomatoes
Veggies:
Jicama slices
Corn
Sweet potato fries (Ore-Ida or Alexia)
Peas
Cucumber slices
Pickles
Red pepper slices
Salad with dressing
Protein/Grain:
Hardboiled/Deviled Egg
Egg Salad
Chicken Salad
Chicken nuggets
Pinto beans
Black beans
Refried beans
Nature Valley Almond Nut Crunch bar
Ham slices
Tofu cubes
Homemade GF muffins or cookies
Also, always remember the option of leftovers. There are many cooked items that are just as good, if not better, the next day. If it's a meal they really like, I'll deliberately make extra so I know I'll have tomorrow's lunch taken care of. And it doesn't even have to be limited to dinner: there's no reason you couldn't send scrambled eggs and bacon. Include a container with Kix or Chex (not the chocolate flavor Chex, which have dairy), fill the thermos with your milk substitute of choice, and you've got a whole breakfast. I'm telling you, you may even have to invest in a security system to protect your child's awesome lunch from jealous schoolmates.
Happy Eating!