May 1st, 2009
Turkey Chili with Corn Cakes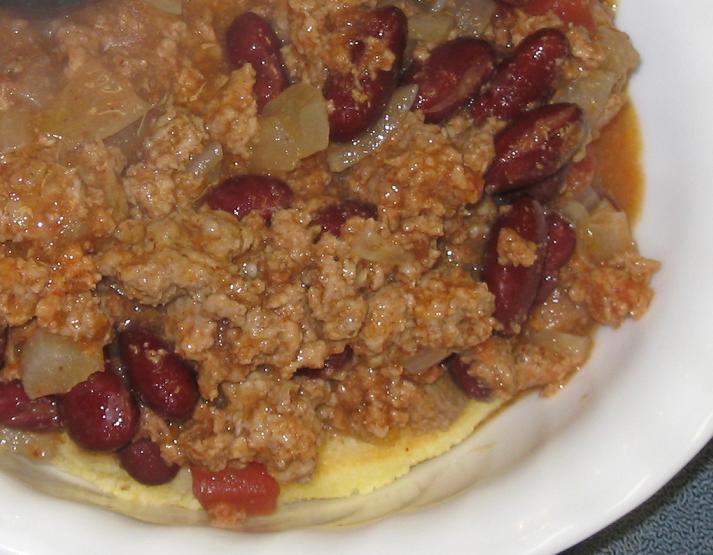 This is my favorite chili recipe of all time. You can use ground beef if you really want, but give the turkey a try at least once. It tastes better, it's healthier for you, and it's cheaper. How much more could you ask from a humble meat?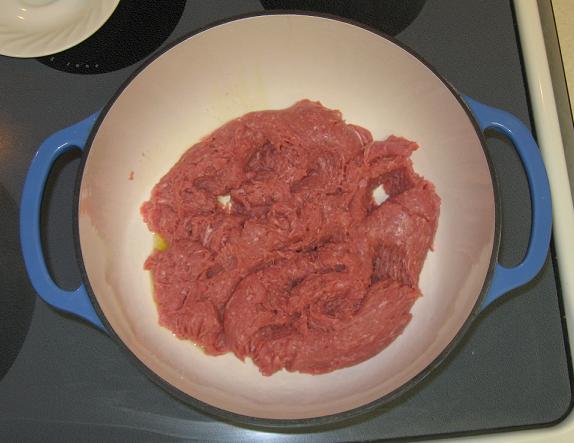 First, dump 2 pounds of ground turkey into a big soup pot with a couple tablespoons of olive oil. Check out those beautiful blue handles–that's my Lodge dutch oven, and I've been in love with it since the day I got it. The inner surface is this sealed enamel stuff, and it cleans easier than any Teflon-coated pan I have. Plus, you can throw the whole thing in the oven, lid and all. Which means you'll be seeing it again whenever I get around to posting my pot roast recipe.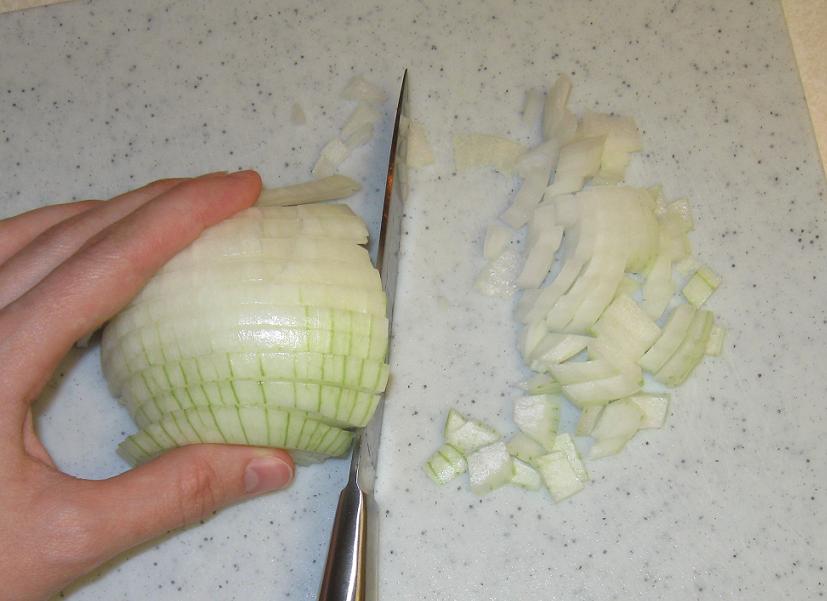 While the turkey starts browning just a bit, dice an onion. I've seen some official definitions of "dice" that are pretty ridiculously tiny for the amateur chef to achieve, so perhaps you may choose to say I am merely "chopping" an onion. Whatever, just get it into the smallest pieces you can manage without cutting off a finger.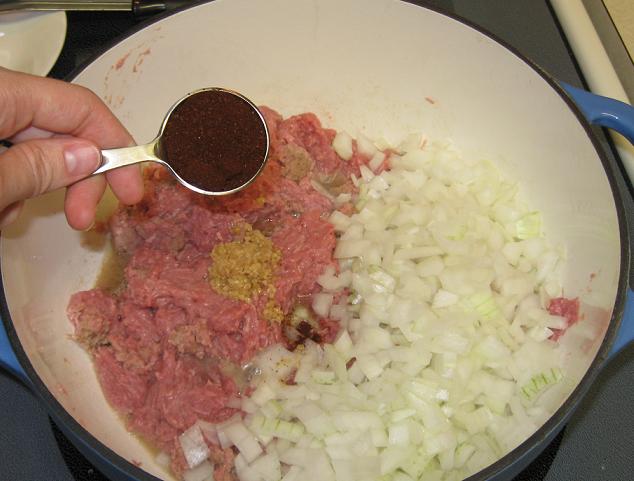 Add your onions to the pot, along with 3 cloves of minced garlic (or 1 1/2 tsp of the jarred kind) and 1 Tablespoon of chili powder. You can add more if you like it spicy, but don't make that decision yet until you check out the next step.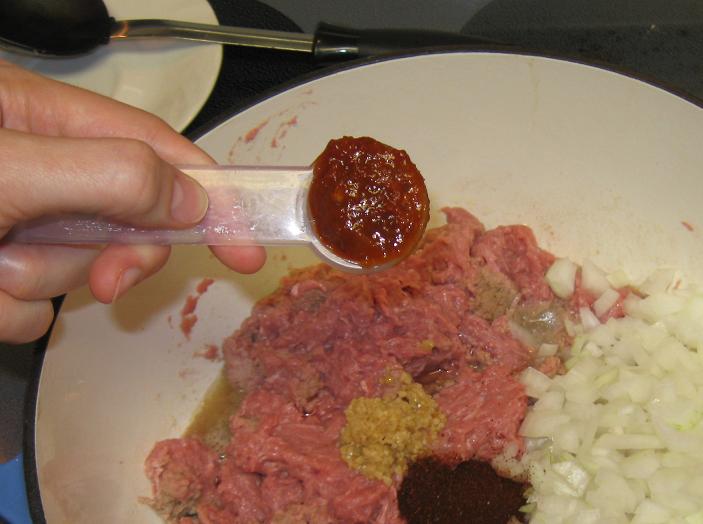 This, my friends, is chipotles in adobo. It sounds fancy, but really it's not–a chipotle pepper is actually just a jalapeno pepper that's been roasted. The "adobo" part is where the real flavor comes from, and that's what that red sauce is. Recipes vary, but it's generally a mixture of tomato paste, apple cider vinegar, garlic, oregano, cumin, and black pepper. Think of it as a spicy Mexican barbecue sauce. Anyway, you buy this stuff in a little can in the ethnic foods aisle, but check your brands for gluten. I can't even remember the name of the brand I get, because it contains whole peppers, which are kind of a pain to work with, so what I do is throw the entire contents of the can in a blender, and store it in a tupperware in the fridge–so that can is long gone. 1 Tablespoon of the blended sauce is equal to about one chili pepper. In this big recipe, 1/2 a Tablespoon will still leave it mild enough for the kids, or if you're really worried you can just use the sauce without the peppers blended in. Don't omit it entirely though, because that wonderful smokey flavor is really essential to the final product.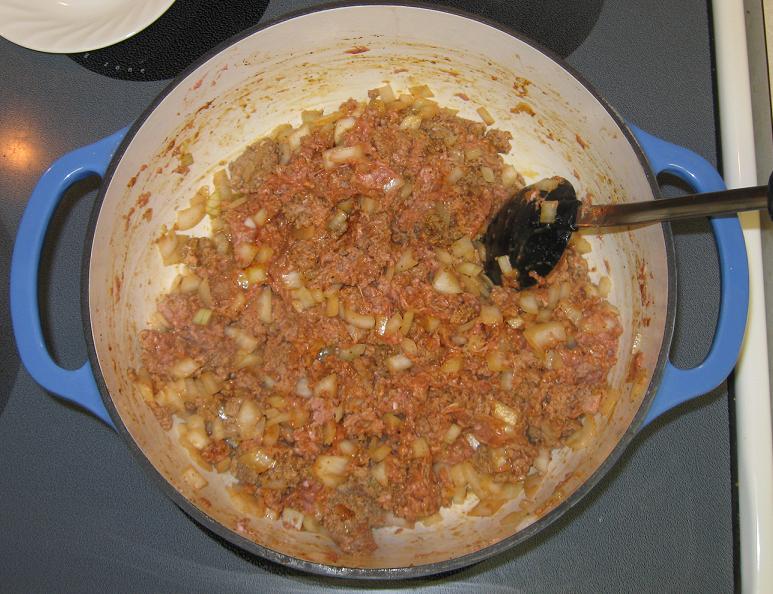 Okay, enough with the chipotle pepper lesson. Mix it all up and let the meat brown, stirring occasionally.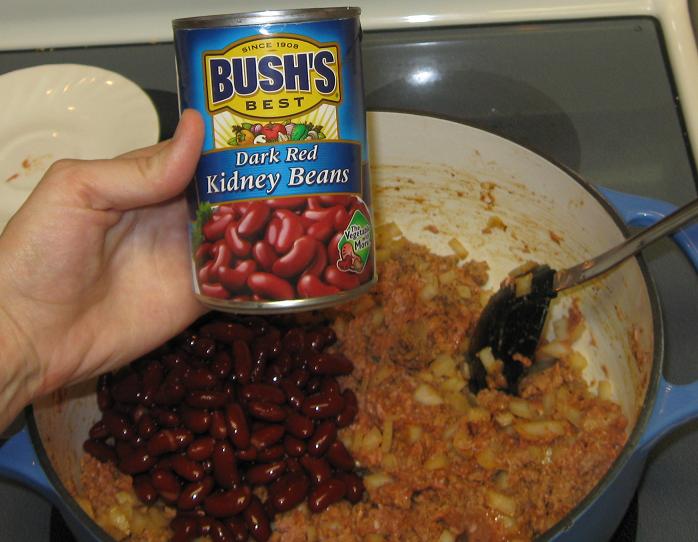 When the meat is cooked, drain a can of Bush's red kidney beans and dump it in the pot. [As always, the brands I use were GFCF at the time of posting, but manufacturers can change formulas without notice. Always check your labels.]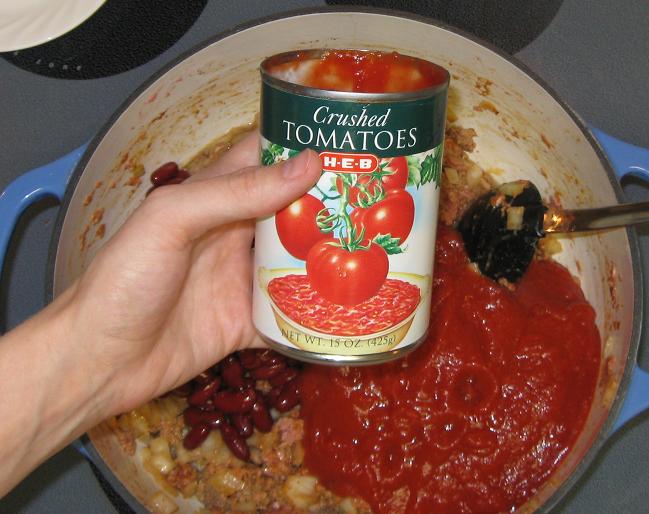 Add a can of crushed tomatoes. My generic brand is probably not available in your area, but really, all a can of tomatoes ought to have in it is tomatoes, water, and maybe a little salt. Don't even waste time with brands that put extra crap in their cans, whether it's ultimately gluten-free or not. It's a can of vegetables, for pete's sake, it doesn't need anything else.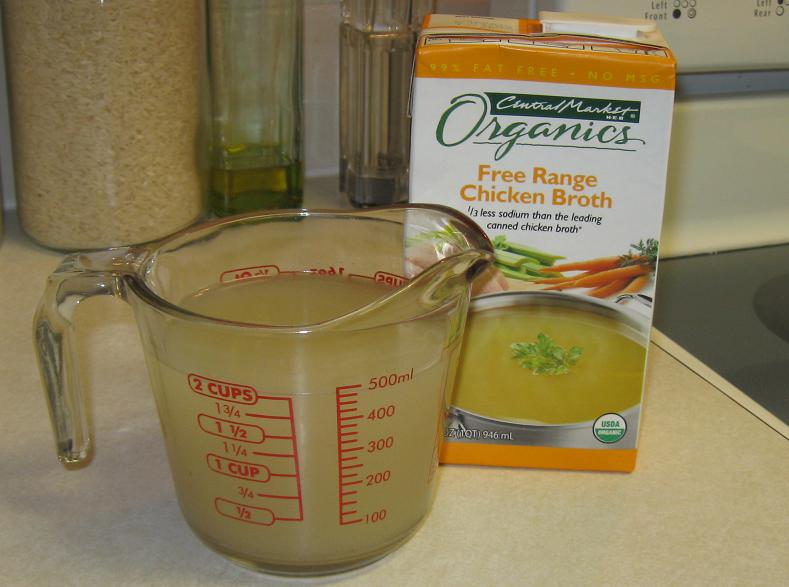 Also add in two cups of GF chicken broth. This is another ingredient you have to hunt down a suitable brand for, and in my experience you usually have to spring for the organic brands before you get one that's safe. As a side note, another thing you have to watch out for is that packaged chicken breasts will often be injected with broth (the package will say something like "Up to 10% solution.") Take the time to verify with the manufacturers that the broth they're injecting is gluten-free, or pay more for organic, it's your call.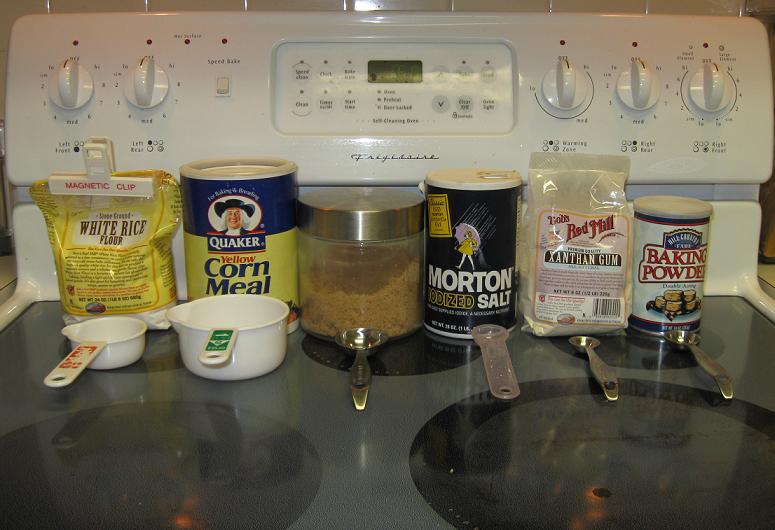 Now, give the chili a good stir and let it simmer for about 20-30 minutes. In the meantime, it's time to make the corn cakes! The number of ingredients can seem daunting, but if you lay it all out in front of you it's not so bad.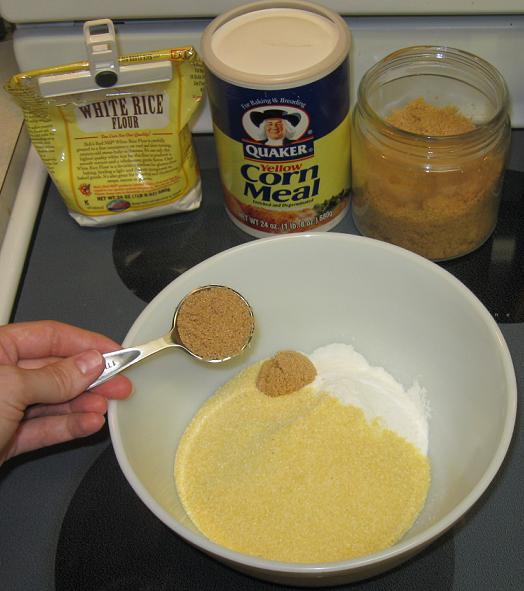 This is 3/4 cup rice flour, 1 cup of cornmeal, and 2 TBS brown sugar.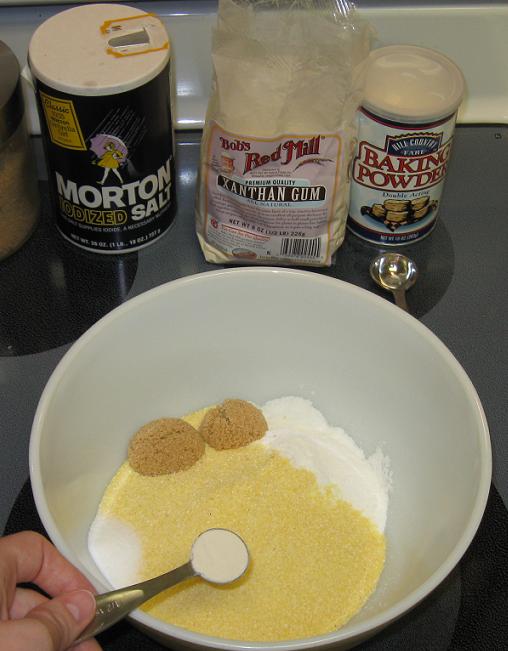 Then 1 tsp of salt, and 1/2 tsp of xanthan gum. I resisted buying xanthan gum for a long time when I started gluten-free cooking, because the name was just too weird, and I didn't even know what it looked like, and I just didn't want to deal with something so foreign, you know? But eventually I figured out it's just another white powder in a Bob's Red Mill bag, and hey, I already have like 3 or 4 of those in my kitchen already, so what the heck. And it really does make a difference in these recipes. It adds that fluffiness and stretchiness back in, the things that used to be taken care of by gluten in your old life.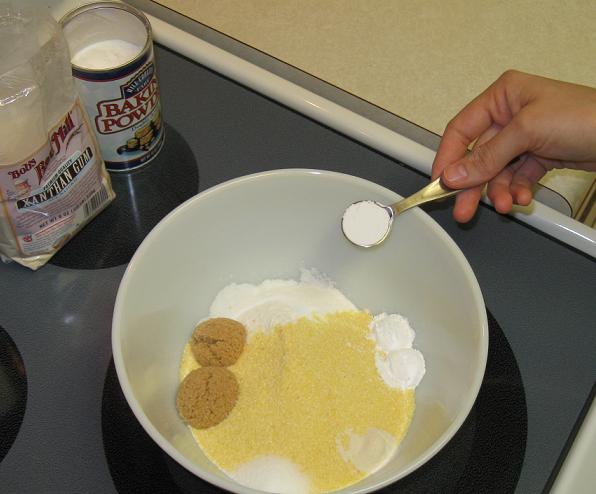 Then 3 tsp of gluten-free baking powder, and you're done with the dry ingredients.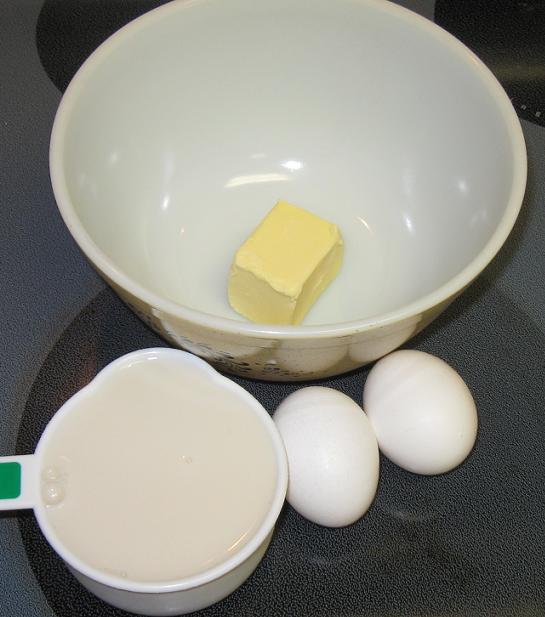 Then the wet ingredients: 2 eggs, 4 TBS Fleischmann's margarine, and 1 cup of almond milk. Don't put that milk away just yet; we're going to need it again in a second.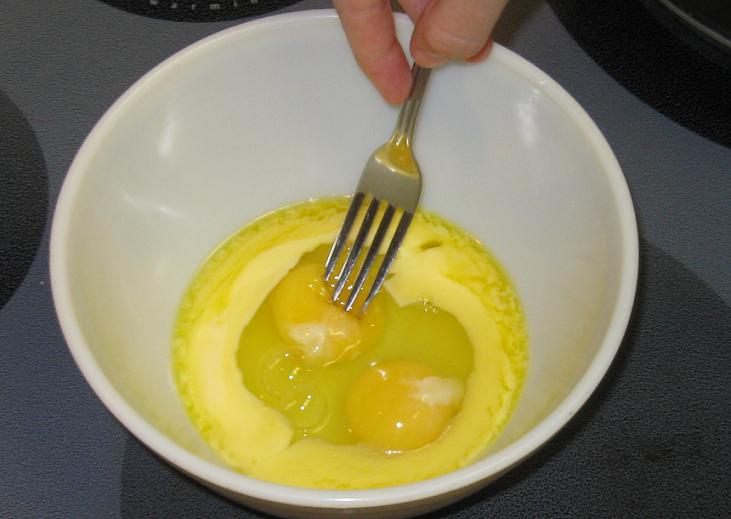 Melt the magarine in the microwave, and whisk in the eggs.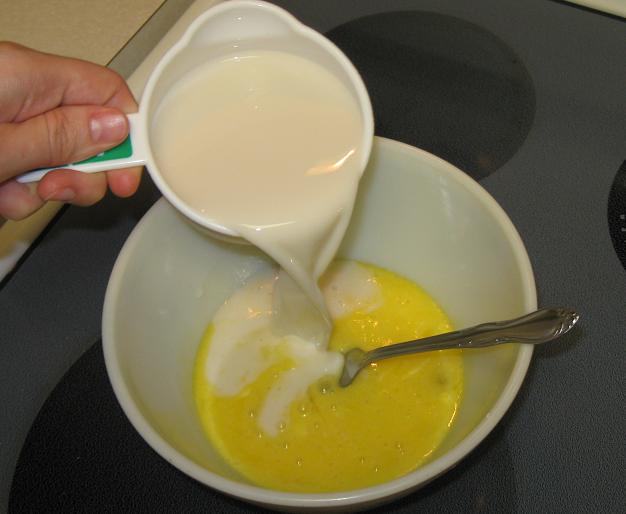 Then add the almond milk…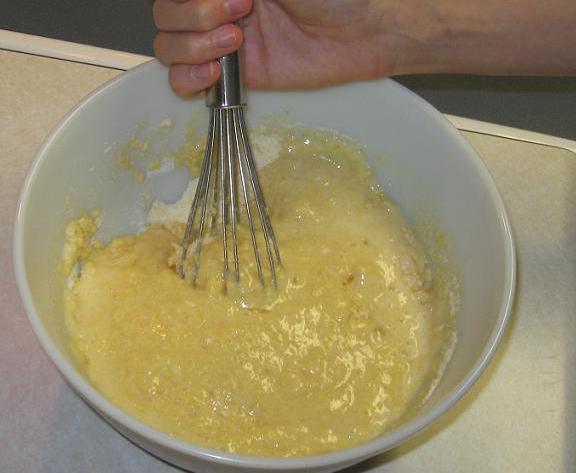 And work that bicep. My great-grandmother must have been super buff, whisking stuff like this every single day.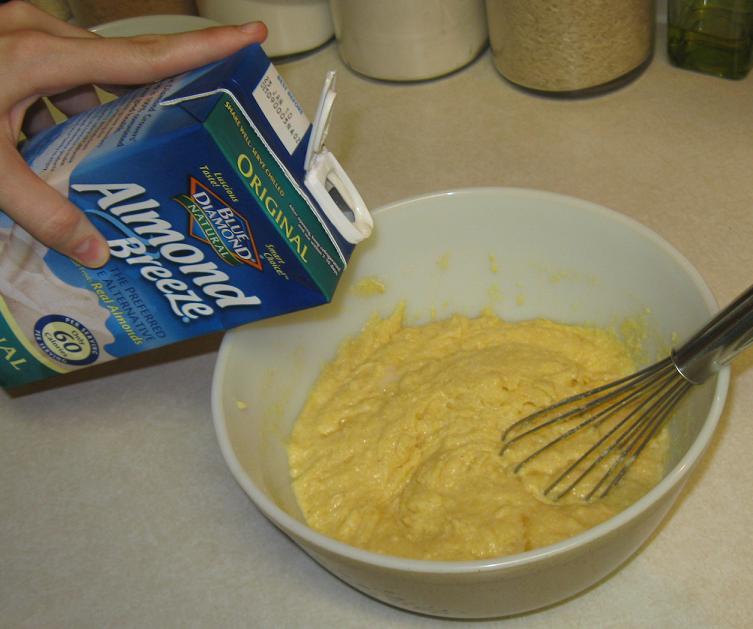 Now you want to add just a teensy bit more almond milk, to get the batter to the right consistency. It's usually about 2-3 Tablespoons.
It will still be thick, like all gluten-free mixes, but you want it so the batter stretches, rather than tearing into chunks.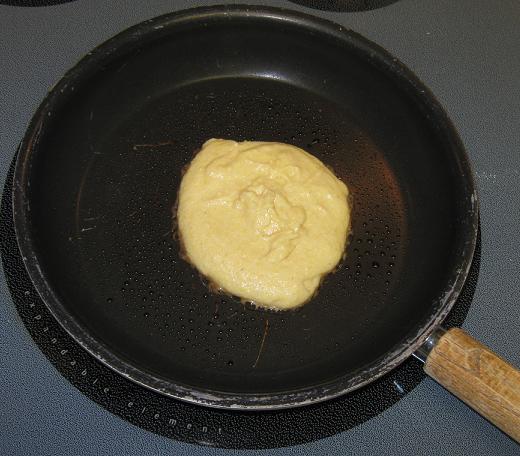 Ladle it into your preheated pan (oiled with Canola cooking spray or dabs of margarine,) and give it several minutes before flipping. You won't see any bubbles surfacing like there would be with a normal pancake batter, you just have to test the underside every once in awhile and see if it's easy to slip the spatula under yet or not.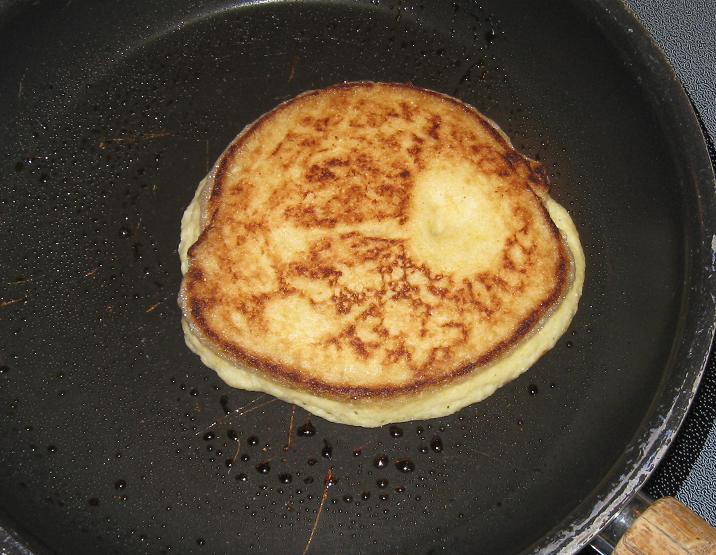 Because the batter is so thick, sometimes an air bubble will get trapped underneath and you'll end up with strange designs on your corn cakes. This one looks like a key to me, or maybe a guitar, I can't decide. I'm still waiting for the day I hit the jackpot and get one that kind of looks like the Virgin Mary, and then I can sell it on eBay for a ton of money and hire someone to make all my corn cakes for me.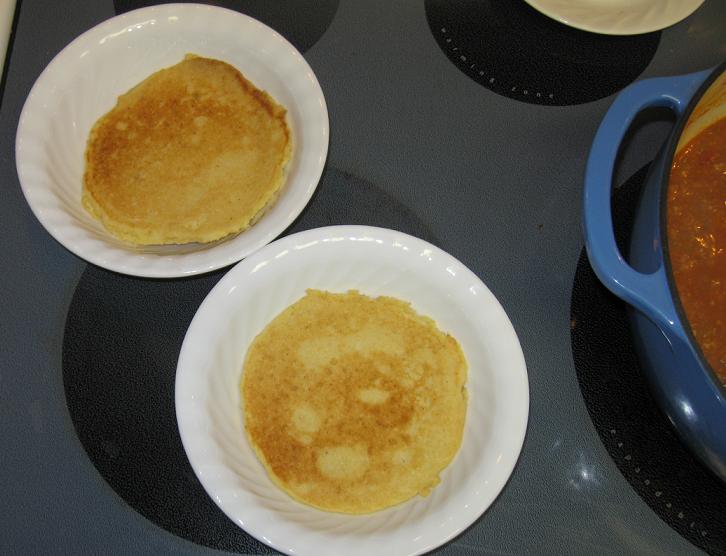 Right about the time you've cooked all your corn cakes, the chili should be ready to serve. You could, of course, serve the cakes alongside the chili, or even forego the whole cake shape in the first place and make them muffins or something instead.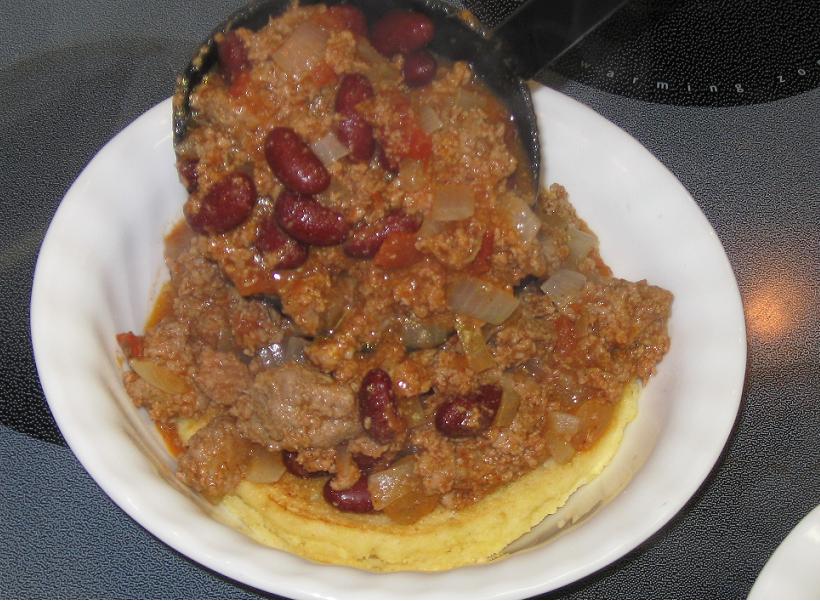 But what I like to do is serve it underneath the chili. You get a bit of corn cake in every bite, and it's a fun surprise, like fruit at the bottom of your yogurt. Except we can't have yogurt anymore–all the more reason to adapt the food-hiding-within-food presentation to new and exciting dishes, am I right? Plus, it's a corn cake, which makes this final product remarkably close to Frito Pie. Truth be told, when I'm running short on time I actually serve it over Fritos to begin with.
Happy Eating!
Turkey Chili with Corn Cakes
2 lbs. ground turkey
1 med. onion
3 cloves garlic
1 TBS chili powder
1 TBS chipotles in adobo
1 can Bush's kidney beans
1 can crushed tomatoes
2 cups GF chicken broth
1 cup corn meal
3/4 cup rice flour
2 TBS brown sugar
1 tsp salt
1/2 tsp xanthan gum
3 tsp GF baking powder
2 eggs
4 TBS margarine
1 cup plus about 2-3 TBS almond milk